In this article, we delve into the exciting realm of interior design for beauty salons, focusing specifically on the transformative power of wallpaper. We understand that creating an inviting and inspiring environment is essential for salon owners who want to provide a remarkable experience to their clients. With this in mind, we have curated a collection of creative wallpaper ideas by CostaCover, aiming to help salon owners elevate their spaces to new levels of elegance, sophistication, and style. From reception areas to styling stations, we will explore how innovative wallpaper choices can redefine the look and feel of a salon, making it a haven of beauty and comfort. Join us on this journey as we unveil the possibilities of using peel and stick wall murals to enhance the aesthetics and ambiance of hair and beauty salons.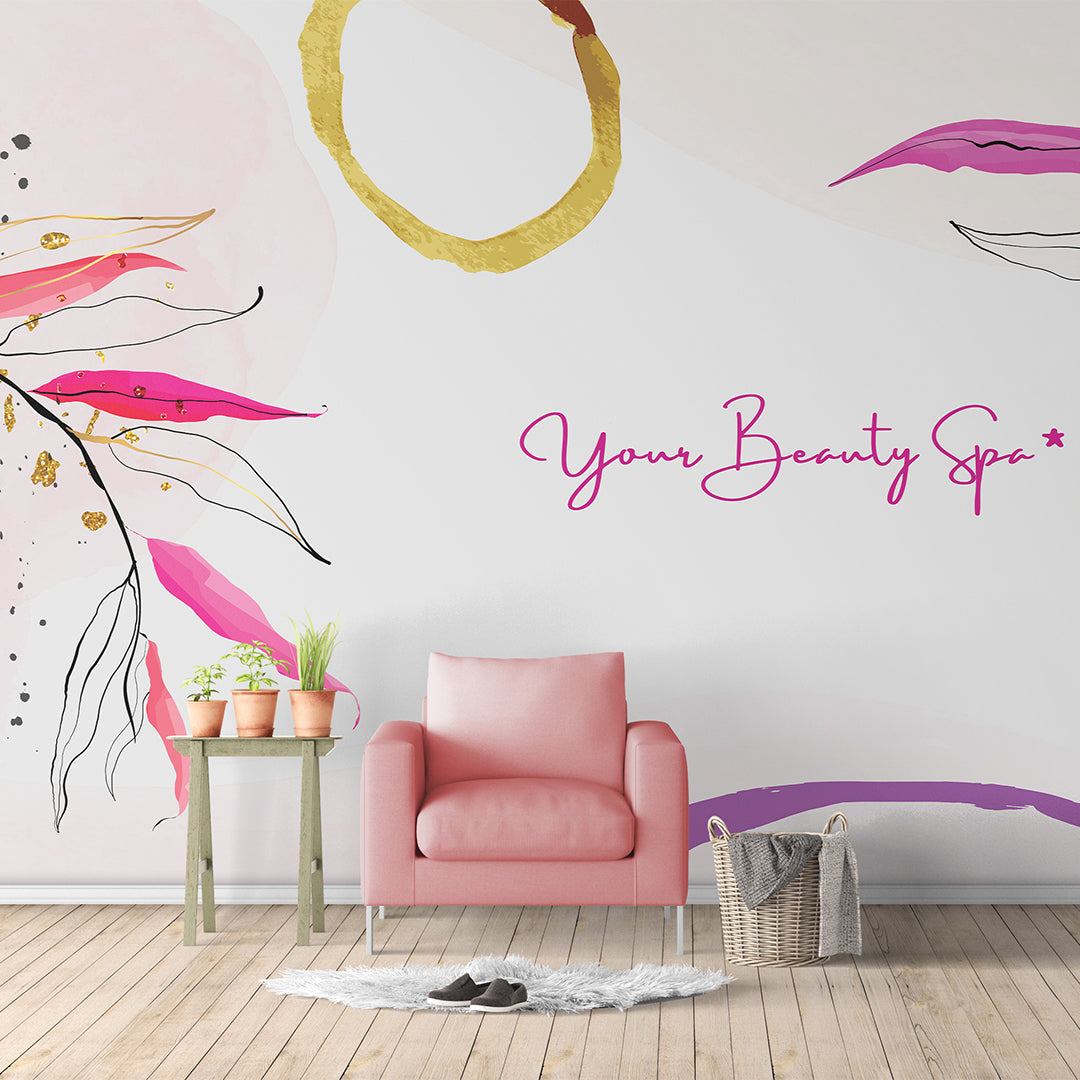 Creating an Inviting Reception Area
The reception or waiting area is the first point of contact for clients, making it a prime opportunity to set the tone for their salon experience. CostaCover offers an array of wallpaper for salon choices that can instantly transform this space. From subtle textures to bold patterns, there's a removable wallpaper to match every salon's unique character.
Elevate your interior with our Black and White Line Art Body Self Adhesive Wallpaper. This captivating design features intricate line art that adds a touch of contemporary sophistication to reception.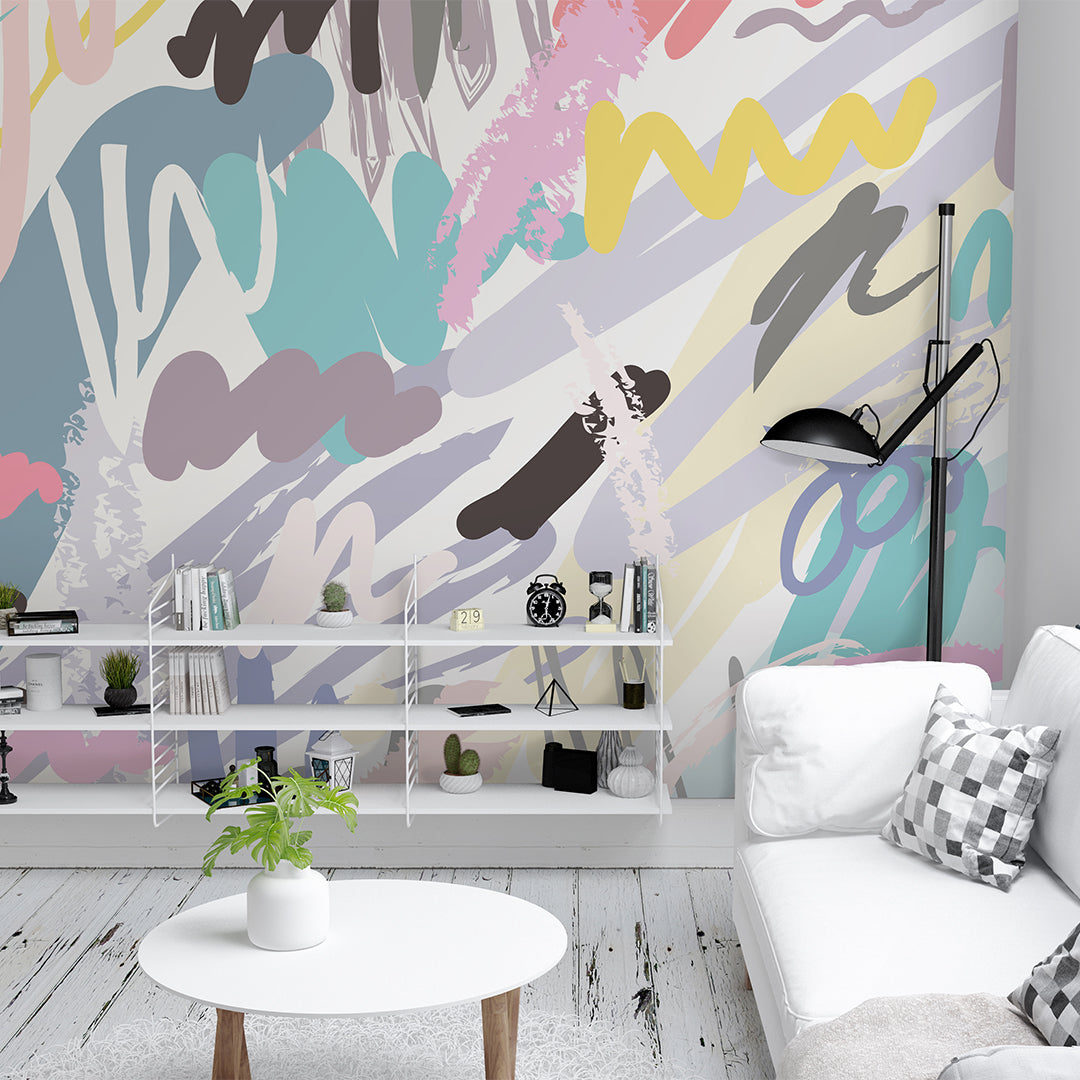 Unleash vibrant creativity in your decor with our Self Adhesive Abstract Paint Colorful Painting Wall Mural. This dynamic mural showcases an explosion of abstract colors, making it a statement piece that infuses energy into the waiting area.
Transforming Styling Stations with Wall Mural
In the dynamic world of beauty salons, the styling stations serve as creative hubs where transformation and rejuvenation take center stage. Elevate these spaces with the captivating power of peel and stick wall murals, infusing style and energy into every moment. 
Make a bold statement and create a visually captivating backdrop that resonates with contemporary with our Black and White Line Art Body Self Adhesive Wallpaper. Transform ordinary styling stations into extraordinary visual statements with this artistic and innovative wallpaper choice.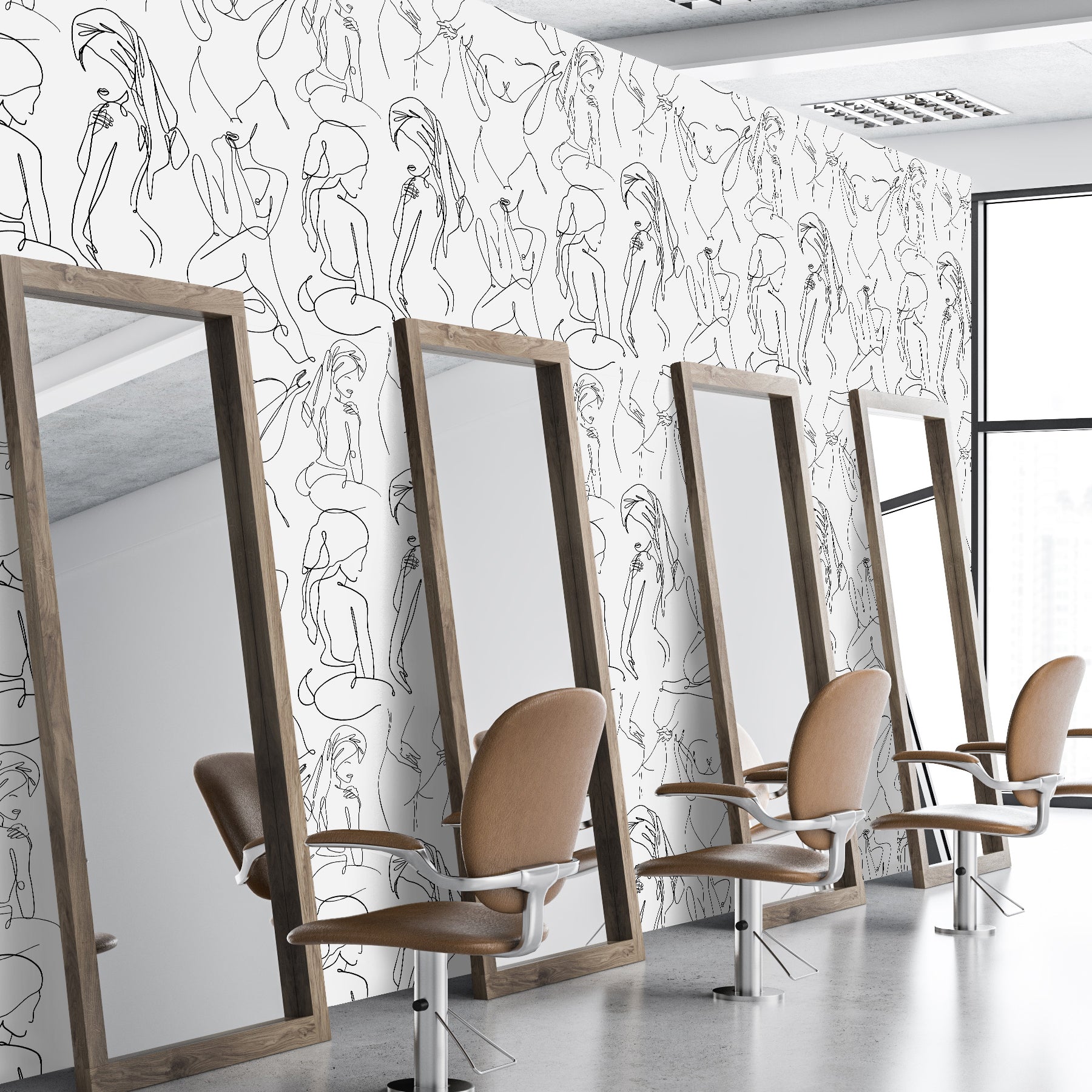 Experience the perfect blend of timeless elegance and modern flair with our Black & White Abstract Lines Self Adhesive Wallpaper. This modern and stylish wallpaper features bold and dynamic abstract lines in classic black and white hues, adding a touch of contemporary sophistication to any space.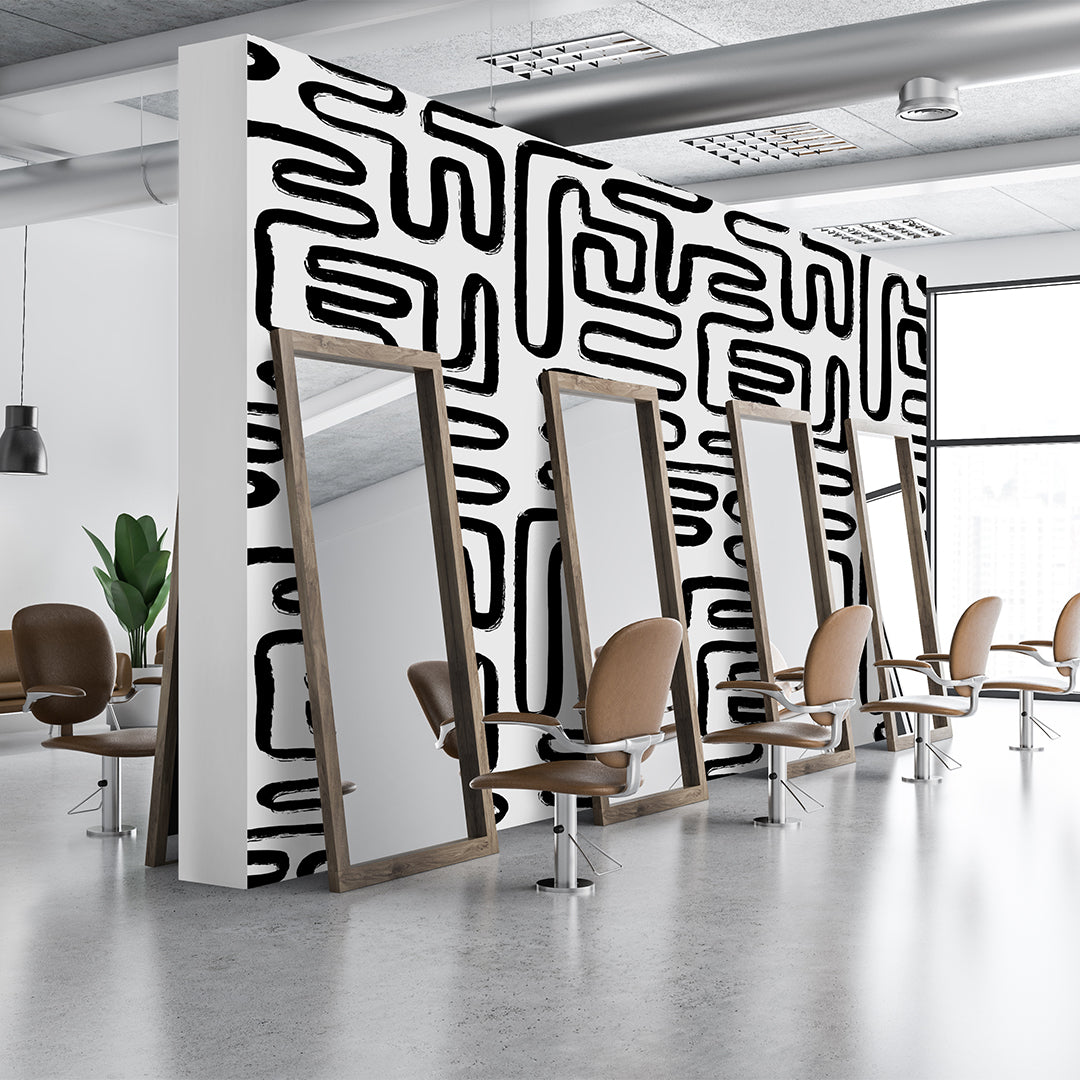 Infuse vibrant energy into your styling stations with the Girls Graffiti Abstract Pink Print Self Adhesive Wall Mural. The playful yet stylish pink graffiti design brings a youthful and dynamic vibe to your salon's interior.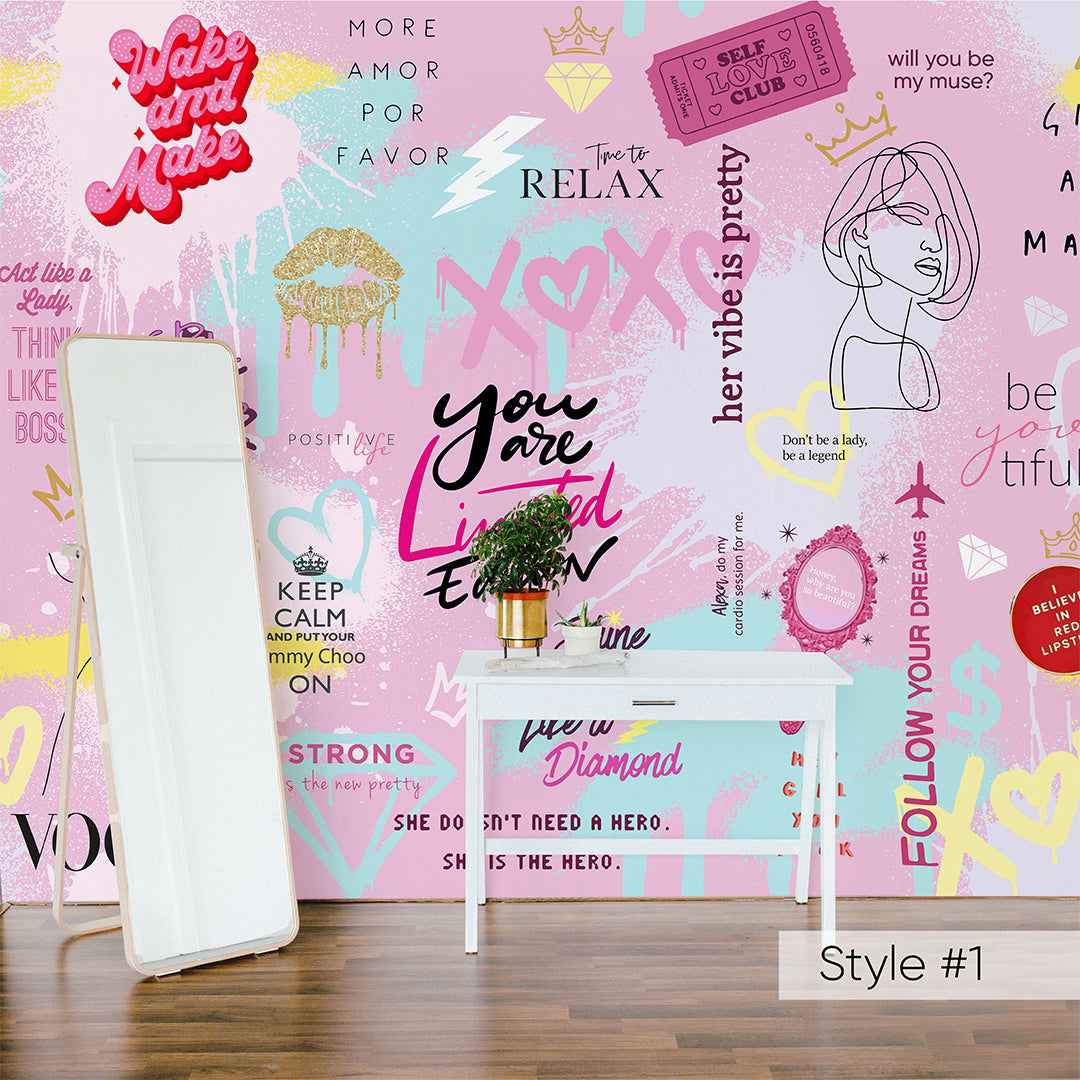 Feature Walls for Salon Accents
Utilize peel and stick wallpaper to craft dynamic Feature Walls that instantly capture attention. Choose from a range of bold patterns, elegant textures, or artistic motifs that resonate with your salon's identity.
Make a statement in your beauty studio with our Self Adhesive Abstract Female Faces Pink Line Art Wall Mural. This striking mural features abstract line art portraying elegant female faces, exuding an aura of sophistication and creativity. The fusion of pink hues adds a touch of femininity and modern flair.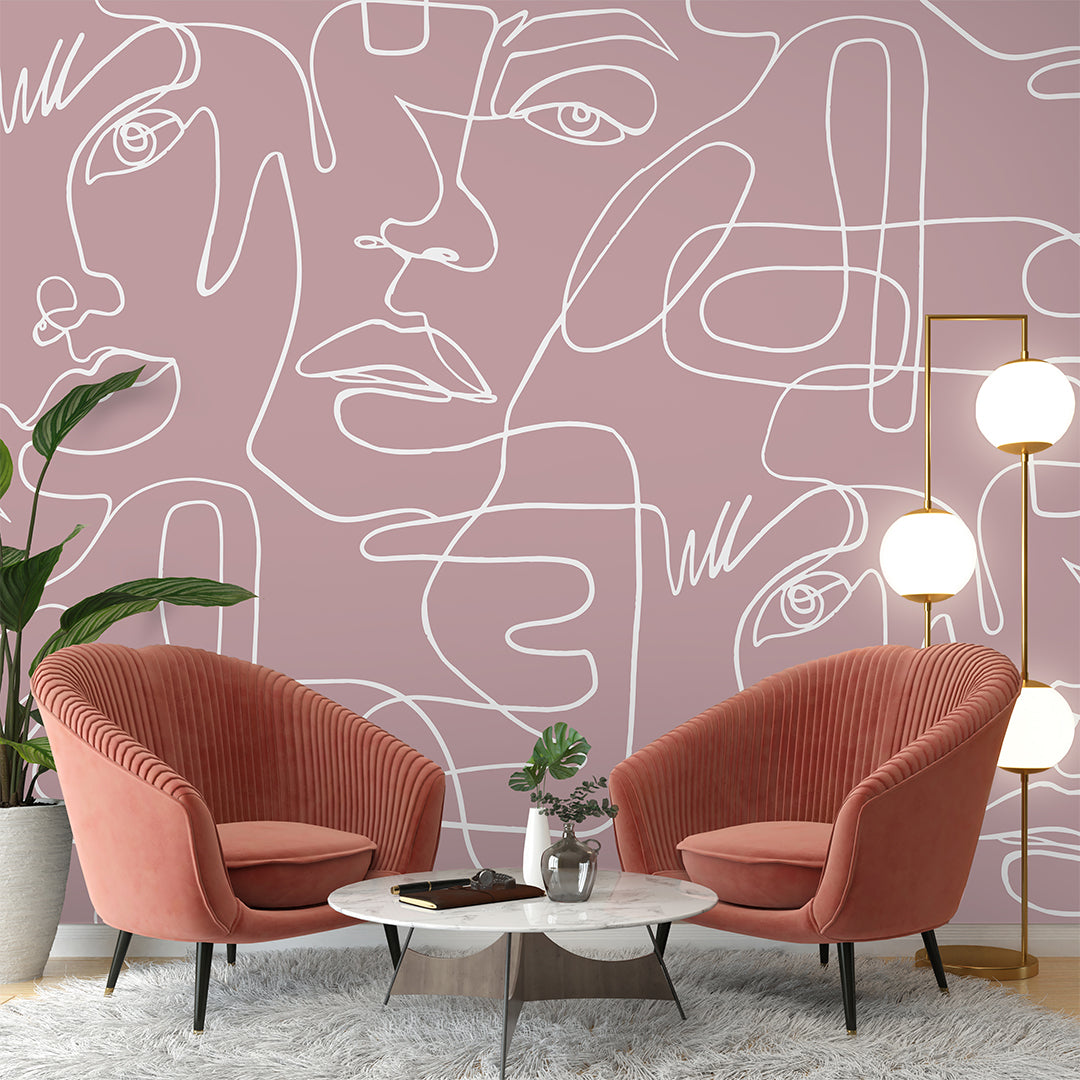 Emphasize specific areas like hair stations, mirrors, or waiting spaces with thoughtfully chosen wallpaper. Infuse creativity into your interior design by integrating Feature Walls that become conversation pieces.
The Watercolor Abstract Blush Pink Beige Marble Wall Mural adds a touch of artistic charm, creating a captivating focal point. This exquisite mural seamlessly combines the elegance of marble with soft, soothing hues of blush pink and beige. Whether you're aiming for a serene ambiance or a subtle pop of color, this mural is a versatile choice that complements a range of interior styles.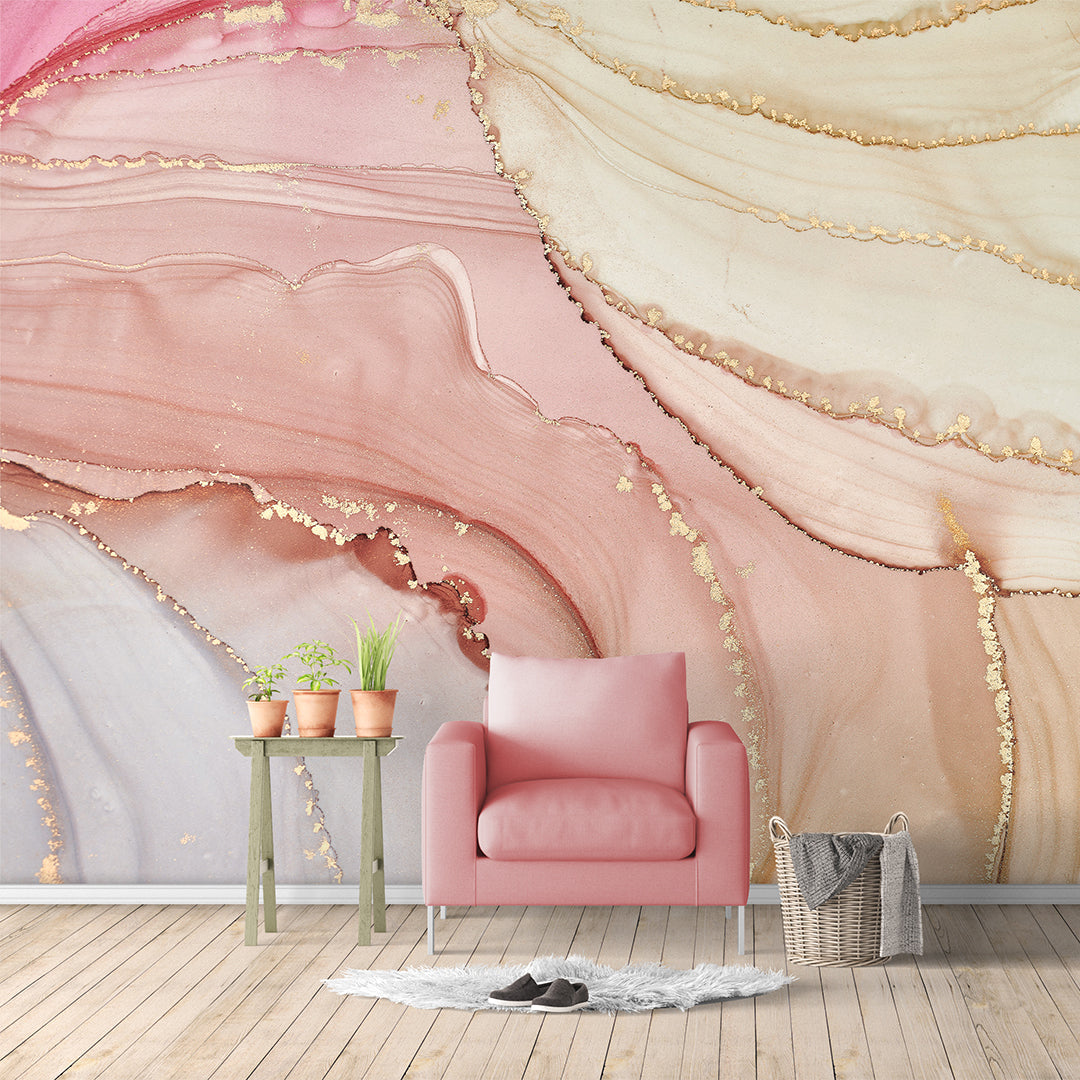 Unleash your design flair by harmonizing colors and patterns. Complement the salon's theme and decor, and let your Feature Wall narrate a visual story that mirrors your salon's essence.
Invite the beauty of nature into your beauty studio with our Pastel Pink Peony Watercolor Boho Floral Wall Mural. This self-adhesive mural captures the charm of blooming peonies in delicate watercolor tones, infusing your space with a bohemian and tranquil atmosphere.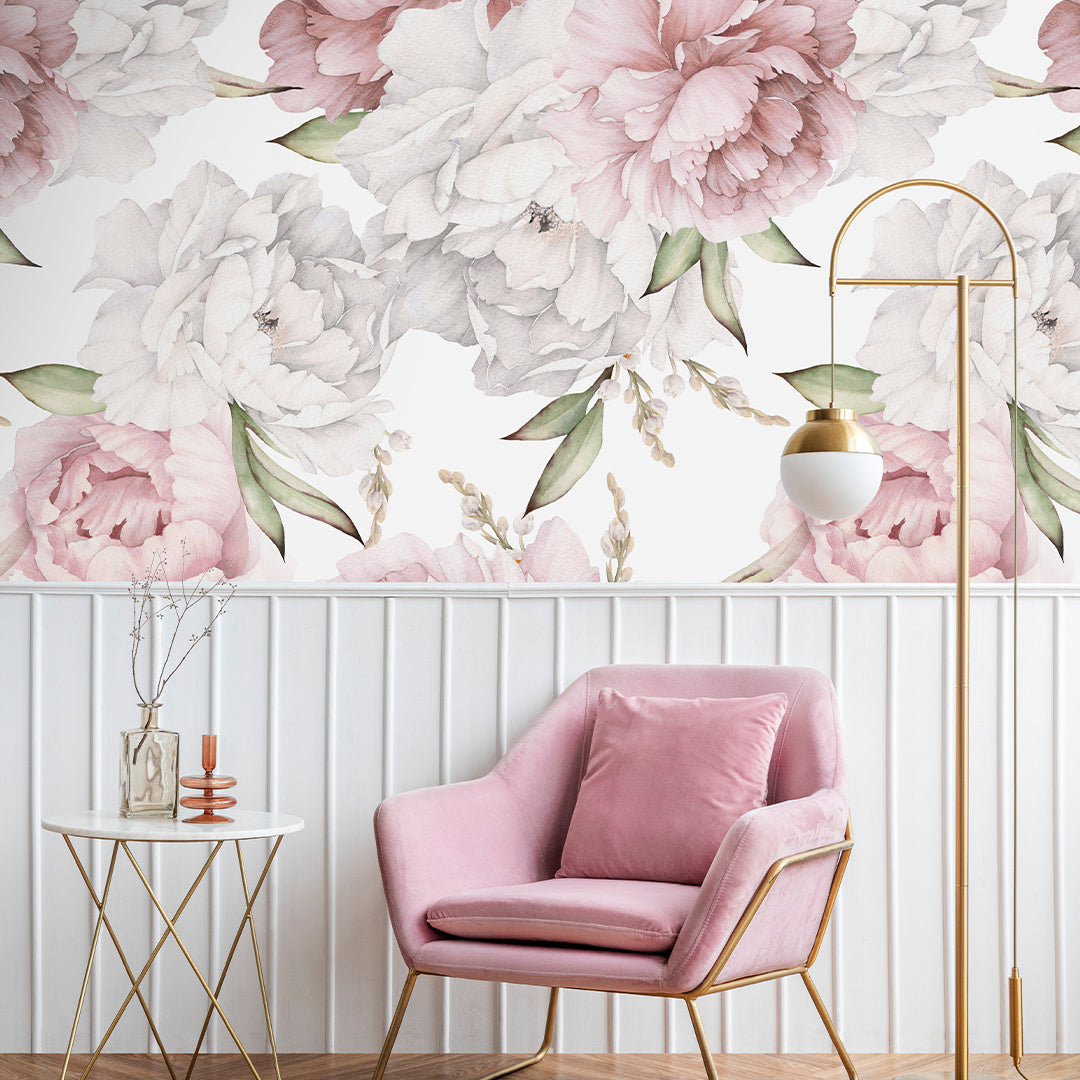 Conclusion
In the world of hair and beauty salons, the ambiance and aesthetic play a crucial role in creating a memorable and delightful experience for clients. The creative use of wallpaper can be a game-changer in transforming ordinary spaces into extraordinary ones, where clients feel pampered, inspired, and rejuvenated.
Unleash your artistic vision, reimagine your salon's interiors, and embark on a journey where design meets beauty and style. With CostaCover's wallpapers, your hair and beauty salon can transcend ordinary expectations, becoming a captivating sanctuary that reflects your passion for excellence.
---