In small bathrooms, every inch of space matters. Making the most of a limited room can be a daunting task, but with the right design elements, it's possible to transform a small bathroom into a stylish and functional oasis. One such versatile and creative tool that can significantly enhance a compact bathroom is removable wallpaper. 
In this guide, we will explore a range of space-enhancing wallpaper ideas that can breathe new life into your bathroom. From clever patterns and colors to strategic placement, we'll cover various design techniques to make your small bathroom appear more spacious and inviting. 
Light and Airy Designs
Light-colored wallpaper plays a crucial role in enhancing the perception of space in small bathrooms. Pale pastels, soft whites, or gentle shades of blue or green can reflect light and create an open and welcoming atmosphere. By choosing light hues, the walls appear to recede, giving the impression of a larger bathroom.
Enhance your bathroom with the captivating charm of the Blue Acrylic Brush Strokes Self Adhesive. This artistic decal features mesmerizing blue brush strokes, adding a touch of creativity and vibrancy to your space.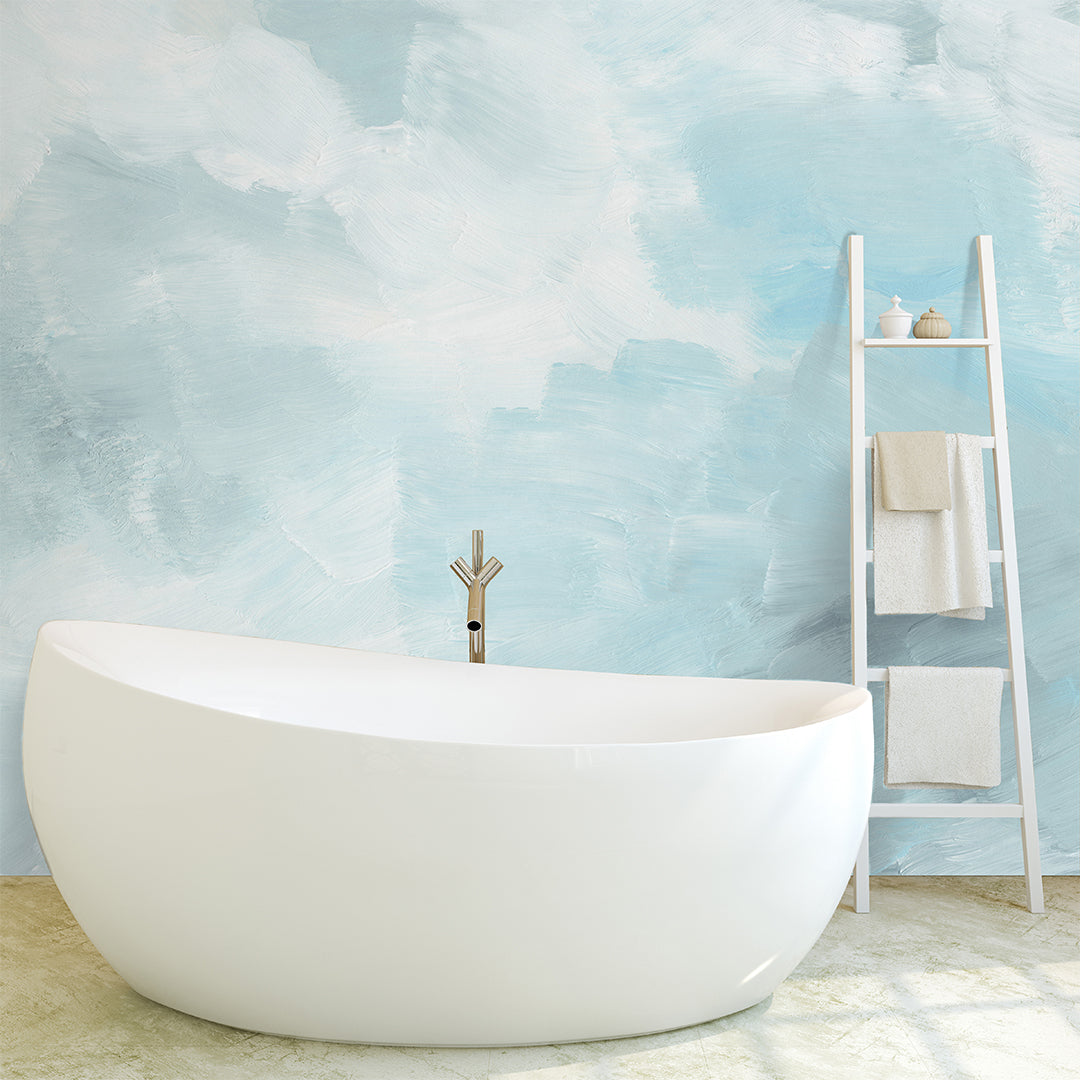 Incorporating delicate floral or nature-inspired wallpaper designs can lend a sense of tranquility and a touch of elegance to a small bathroom. Such patterns add a refreshing element and visually expand the space. Subtle floral motifs or nature-inspired graphics can evoke a sense of serenity and a spa-like ambiance.
Infuse your bathroom with a touch of elegance and sophistication using the Self Adhesive Art Deco Minimalistic Flowers Removable Wallpaper. This stunning wallpaper showcases intricate art deco floral designs in a minimalistic style, elevating the ambiance of your bathroom instantly.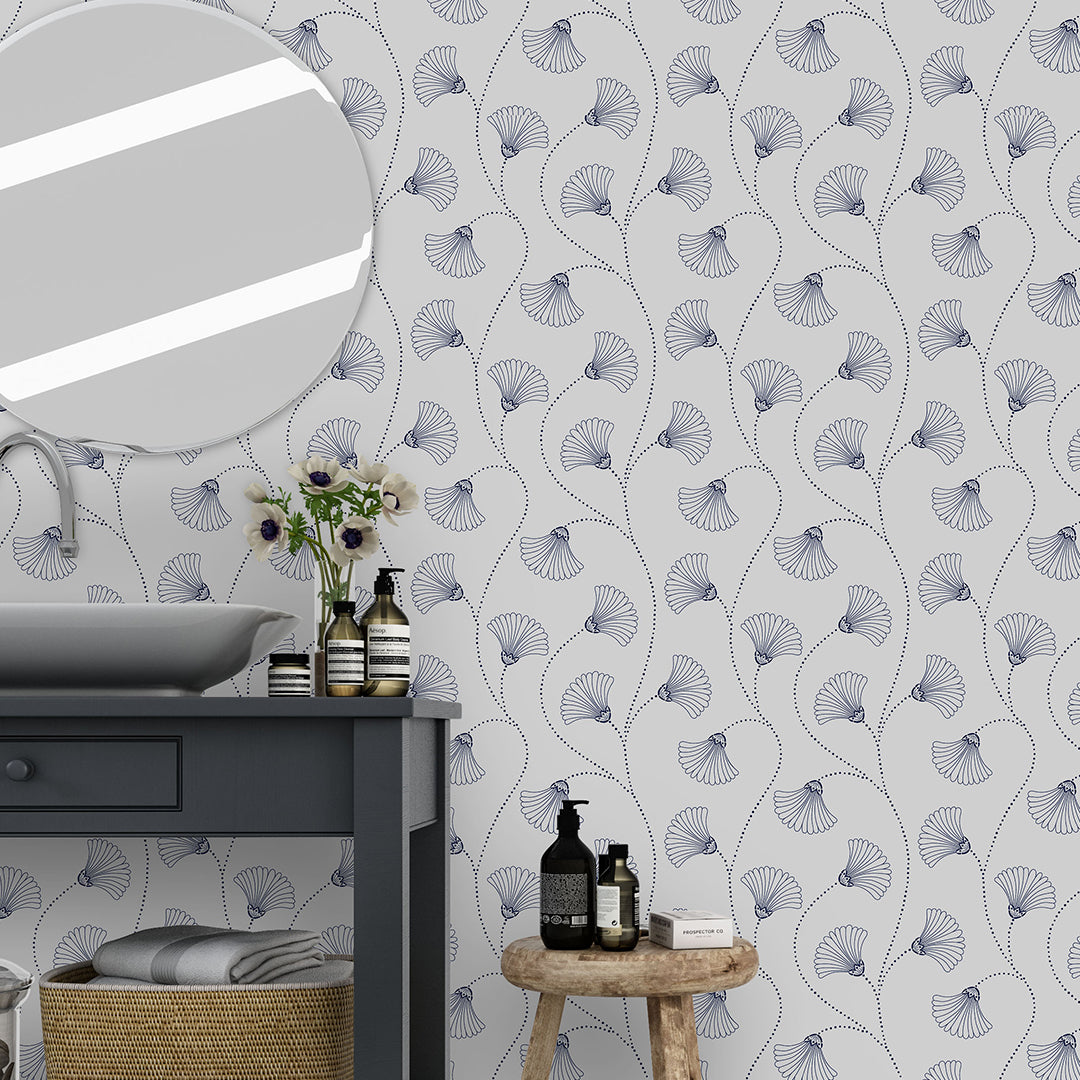 Minimalistic patterns work wonders in small bathrooms by providing visual interest without overwhelming the space. Geometric shapes, simple stripes, or abstract designs in muted tones create a modern and uncluttered look. These understated patterns add a contemporary touch and allow other decor elements to shine.
Transform your bathroom into a serene sanctuary with the Neutral Beige Diamond Rhombuses Self Adhesive Wallpaper. Featuring neutral beige tones and chic diamond rhombuses, this self-adhesive wallpaper exudes timeless charm and versatility.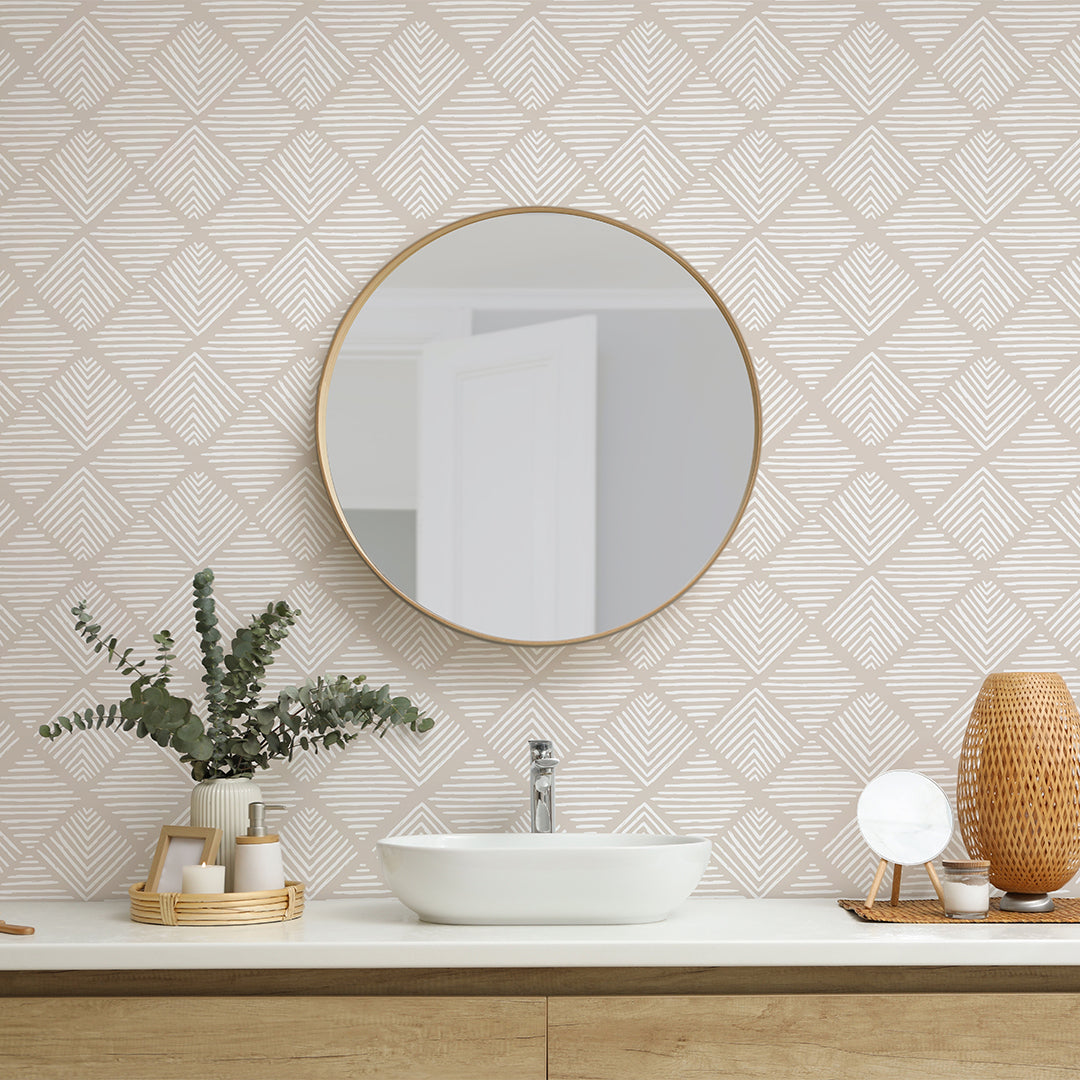 Geometric and Vertical Patterns
Revitalize your small bathroom with the modern appeal of geometric wallpaper. These bold and structured patterns can create an illusion of depth and dimension, adding a contemporary touch to your space. Opt for intricate geometrical shapes or simple lines, depending on your desired aesthetic.
Add a touch of bohemian charm to your bathroom with our Boho Beige Brown Strokes Self Adhesive Wallpaper. The elegant combination of beige and brown strokes creates a stylish and artistic look, perfect for the bathroom. Transform your walls effortlessly and infuse your bathroom with boho vibes and personality.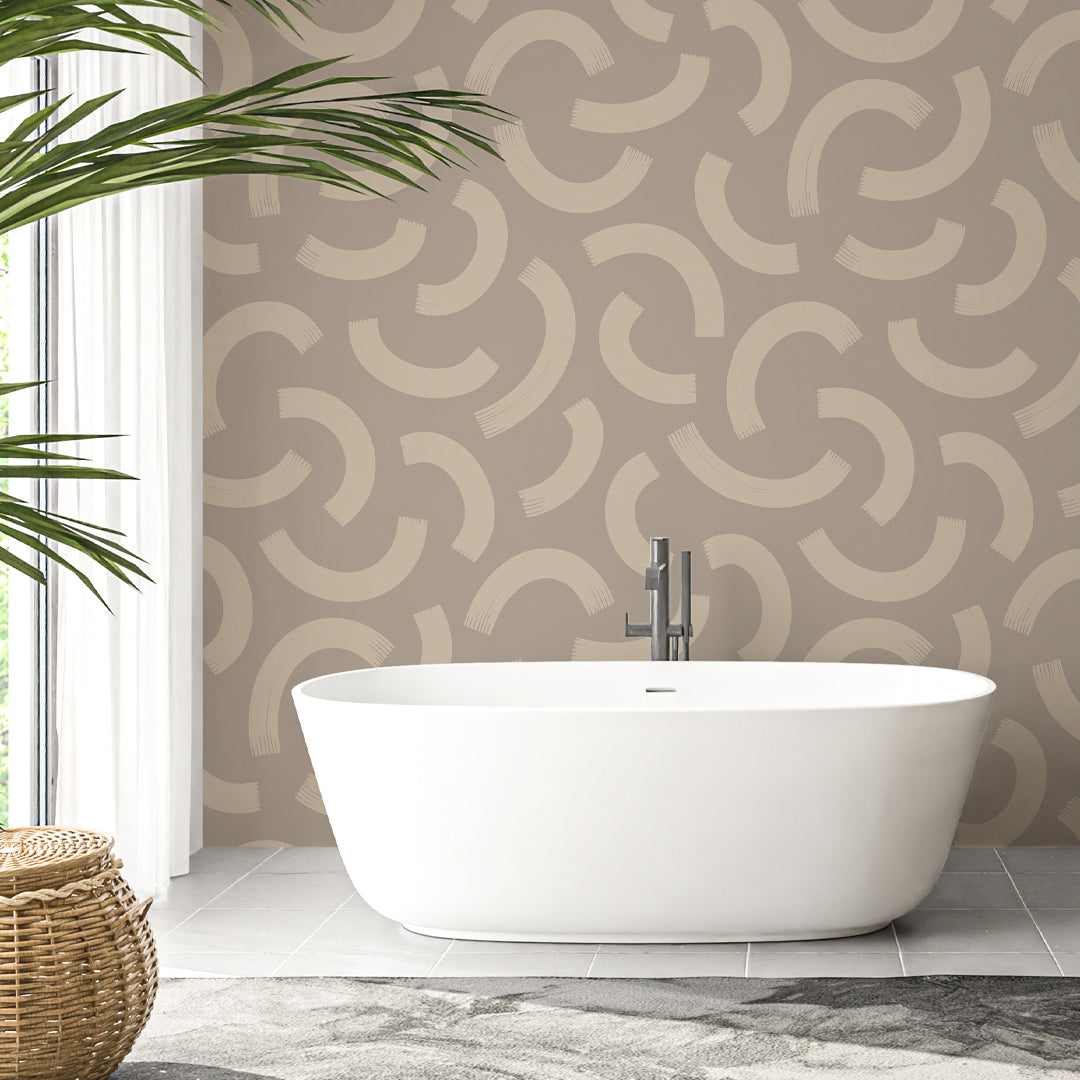 Make the most of your limited vertical space by incorporating wallpaper with vertical patterns. These designs draw the eye upward, giving the impression of heightened ceilings and a more spacious ambiance. Choose vertical stripes, vines, or any elongated patterns that complement your bathroom decor.
Introduce Scandinavian elegance to your bathroom with our Olive Boho Line Scandinavian Style Self Adhesive Wallpaper. The subtle olive color and vertical line pattern create a soothing and modern ambiance, perfect for contemporary spaces.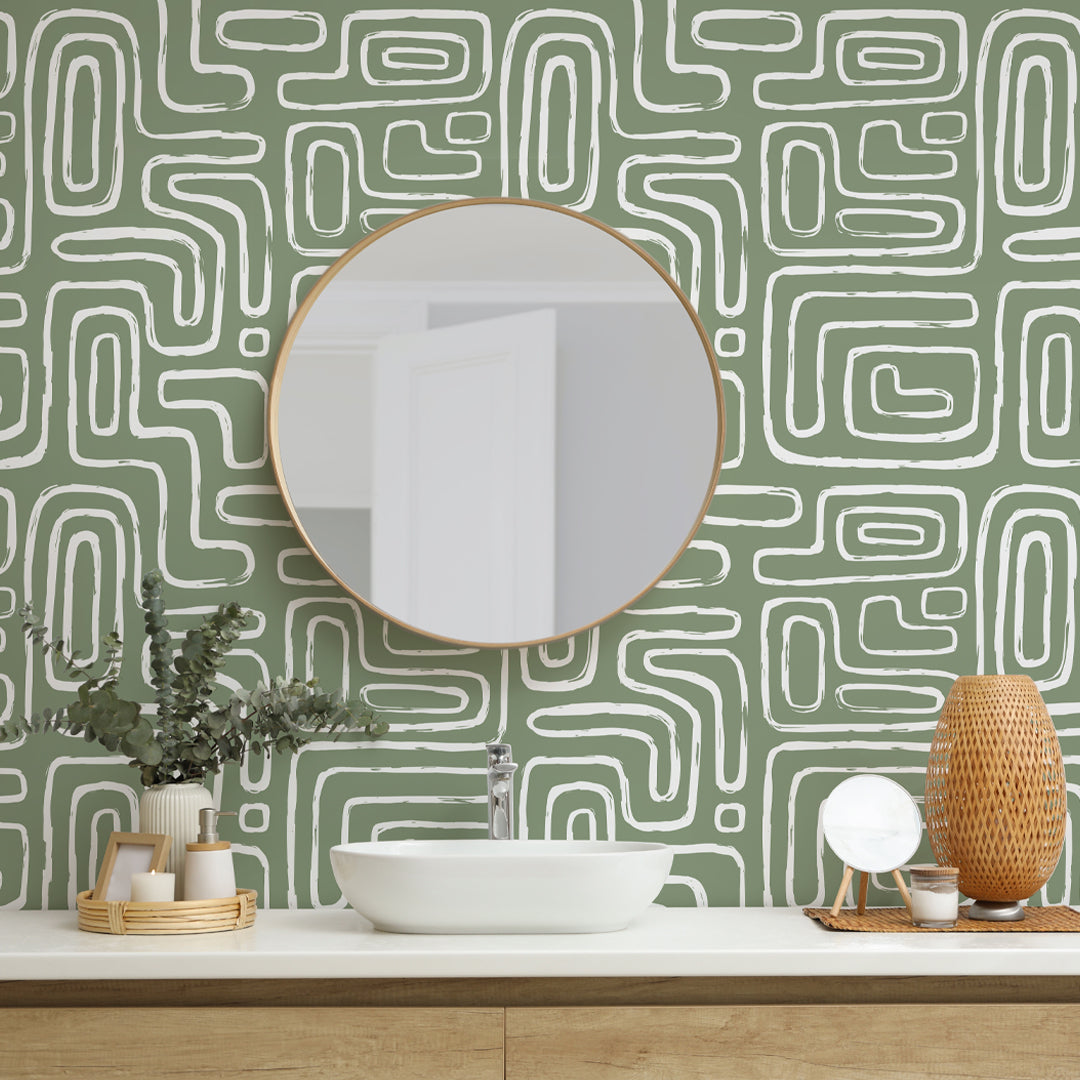 Use the right combination of colors and shapes to achieve a compelling optical illusion in your small bathroom. Light and cool-toned colors create an open and airy feel, while warmer tones can make the space feel cozier. Combine vertical patterns with soft curves to balance the visual elements and create a harmonious effect.
Introduce a soothing and boho-inspired vibe to your bathroom with our Beige & White Boho Stones Shapes Self Adhesive Wallpaper. The delicate blend of beige and white stones shapes adds a tranquil and sophisticated feel to your space.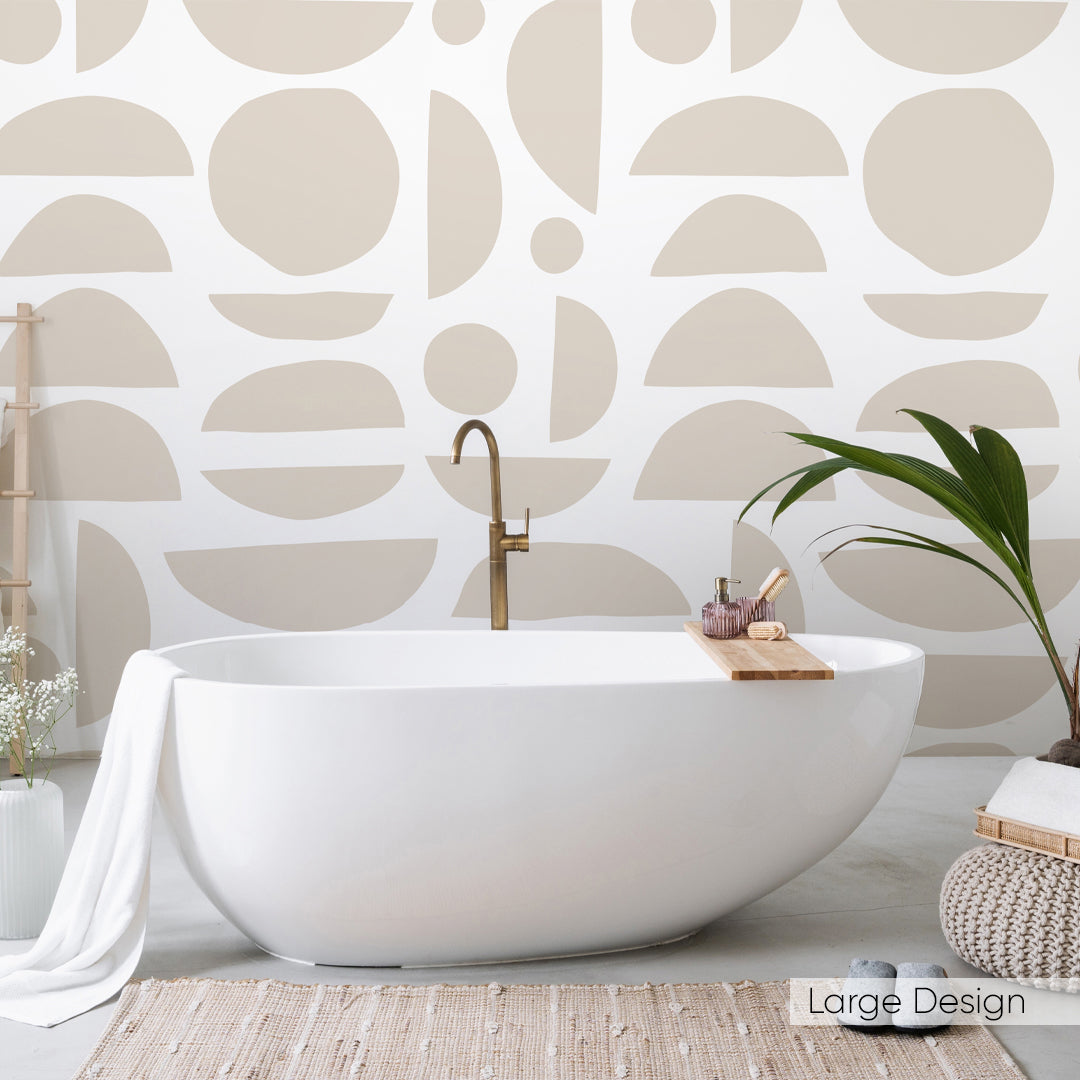 Tile and Textured Wallpaper
Tile-inspired wallpaper offers a fantastic option for small bathrooms, providing a contemporary and sophisticated appearance without the cost and hassle of actual tiling. These wallpapers mimic various tile patterns, such as subway tiles, mosaic tiles, or intricate Moroccan designs, adding depth and visual interest to the bathroom walls.
Add a touch of timeless elegance to your walls with our Self Adhesive Art Deco Geometric Scallop Removable Wallpaper. The intricate scallop pattern, inspired by Art Deco design, brings a sophisticated and luxurious vibe to any bathroom.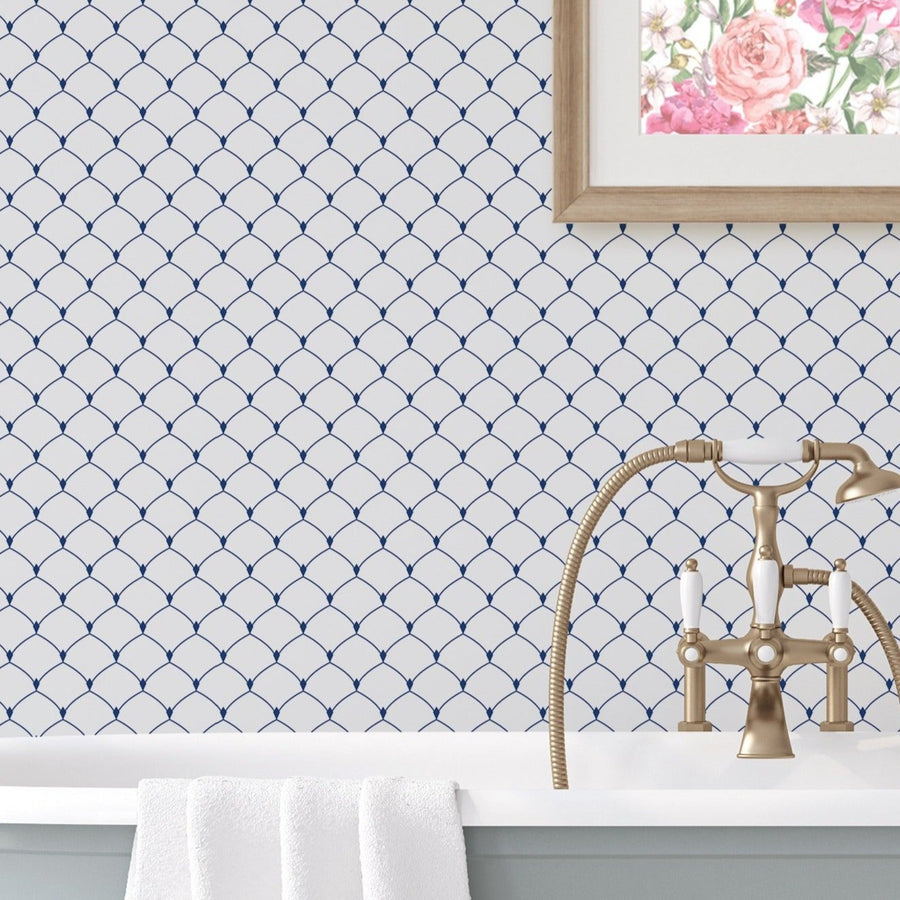 Textured wallpaper introduces an intriguing dimension to small bathrooms without overpowering the limited space. Faux textured wallpapers can replicate the look of natural materials like stone or brick, bringing warmth and character to the walls. The subtle texture complements the bathroom decor, creating a balanced and inviting atmosphere.
Create a serene and luxurious bathroom retreat with our White and Gray Marble Stone Texture Wall Mural. The realistic marble texture adds a sense of opulence and refinement to your walls, making them a captivating focal point. This wall mural by CostaCover is perfect for giving your bathroom a spa-like ambiance and elevating its overall aesthetics.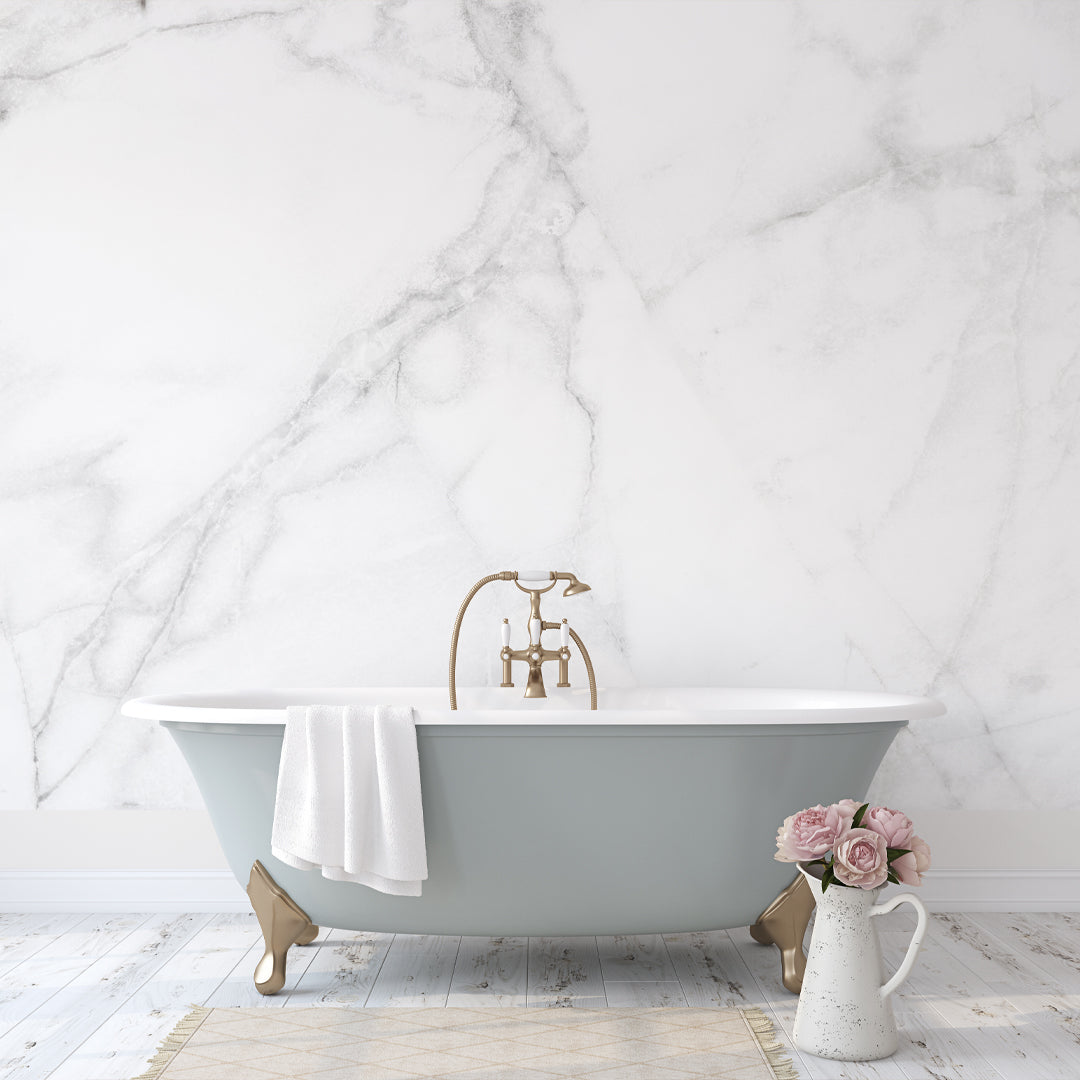 Bring a touch of nature's beauty into your bathroom with our Self Adhesive Watercolor Hexagon Honeycomb Removable Wallpaper. The delicate watercolor hexagon pattern exudes a sense of whimsy and charm, creating a delightful and relaxing atmosphere.
For a truly one-of-a-kind statement, consider combining tile and textured wallpaper within the same bathroom. Installing tile-inspired wallpaper on one wall and a complementary textured wallpaper on another can create an eye-catching focal point that draws attention and elevates the overall design. This creative approach adds depth and personality to the small bathroom, making it feel more expansive and captivating.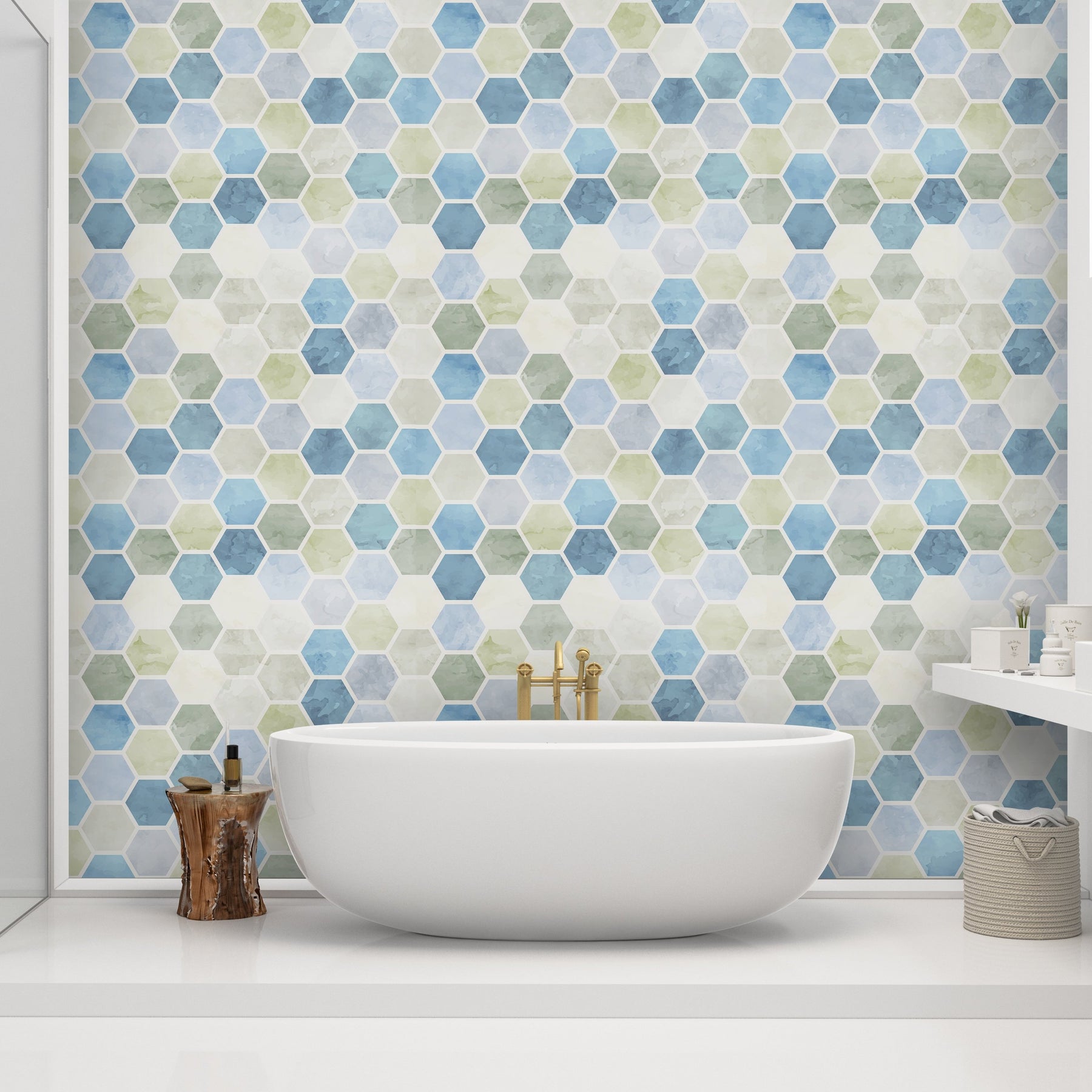 Conclusion
By choosing the right wallpaper for your bathroom, you can visually expand the space, add depth and character, and create a personalized sanctuary that reflects your style. With the ease of installation and removal, you can experiment with various designs and change the look of your bathroom whenever inspiration strikes.
Embrace the power of removable wallpaper to maximize the potential of your small bathroom, turning it into a visually stunning and inviting retreat. Explore the collection of bathroom wallpapers at CostaCover and discover the perfect solution to elevate your bathroom design. Don't miss the chance to redefine your small bathroom with these space-enhancing wallpaper ideas.
---