Accent walls have the remarkable ability to transform the ambiance of a room. By utilizing a different color, pattern, or texture on one wall, you can breathe new life into your space. This article delves into the creative possibilities that peel and stick wallpaper for accent walls, offering inspiration and practical insights for those seeking to revamp their living spaces. Whether you're aiming for a cozy bedroom, a lively living room, or a welcoming entryway, the versatility of peel and stick wallpaper by CostaCover holds the key to an impactful interior transformation.
Black Accent Wallpaper
A Black accent wall can add an element of sophistication and drama to any space. It's a bold design choice that can completely transform the look and feel of a room. If you're considering a black accent wall, you'll be pleased to know that black peel and stick wallpapers offer an easy and flexible way to achieve this stunning effect. Here are some examples of stunning black peel and stick accent wallpapers to inspire your interior design:
Dark Floral Accents
Colorful Dark Tropical Banana Leaves Self Adhesive Wall Mural
Embrace the allure of tropical elegance with this dark and vibrant peel and stick wallpaper. The colorful dark tropical banana leaves create a lively contrast against the black backdrop. Ideal for those seeking a bold and nature-inspired wallpaper accent wall.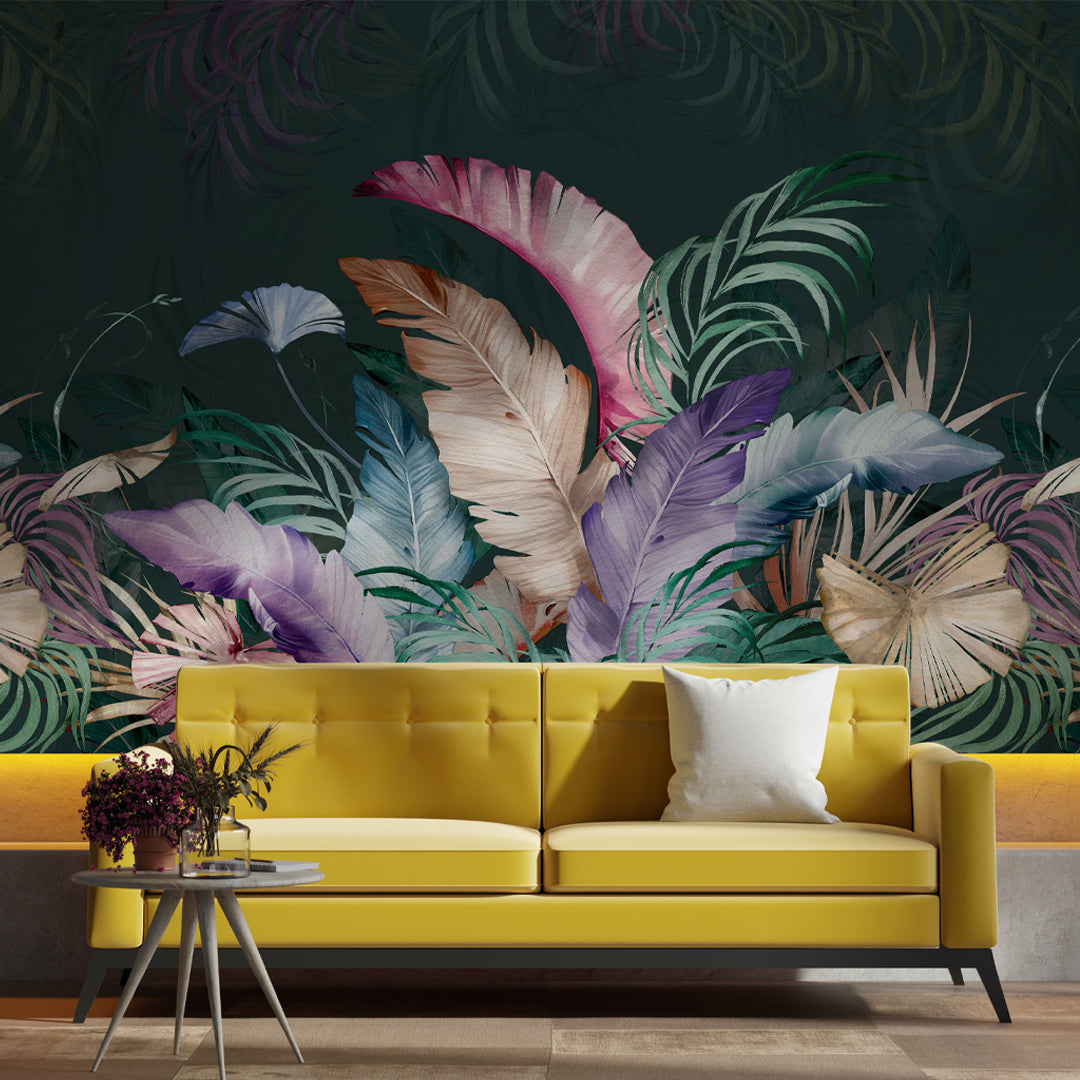 Dark Green Tropical Banana Leaves Self Adhesive Wall Mural
If you prefer a slightly more subdued tropical look, this dark green banana leaves mural offers a calming yet stylish option. The intricate details and rich hues bring an exotic touch to your space.

Black and Gold Marble Patterns
Black & Gold Marble Self Adhesive Wall Mural
Elevate your room with the timeless elegance of black and gold marble. The rich veins and intricate patterns add a touch of luxury to your accent wall, creating a stunning focal point.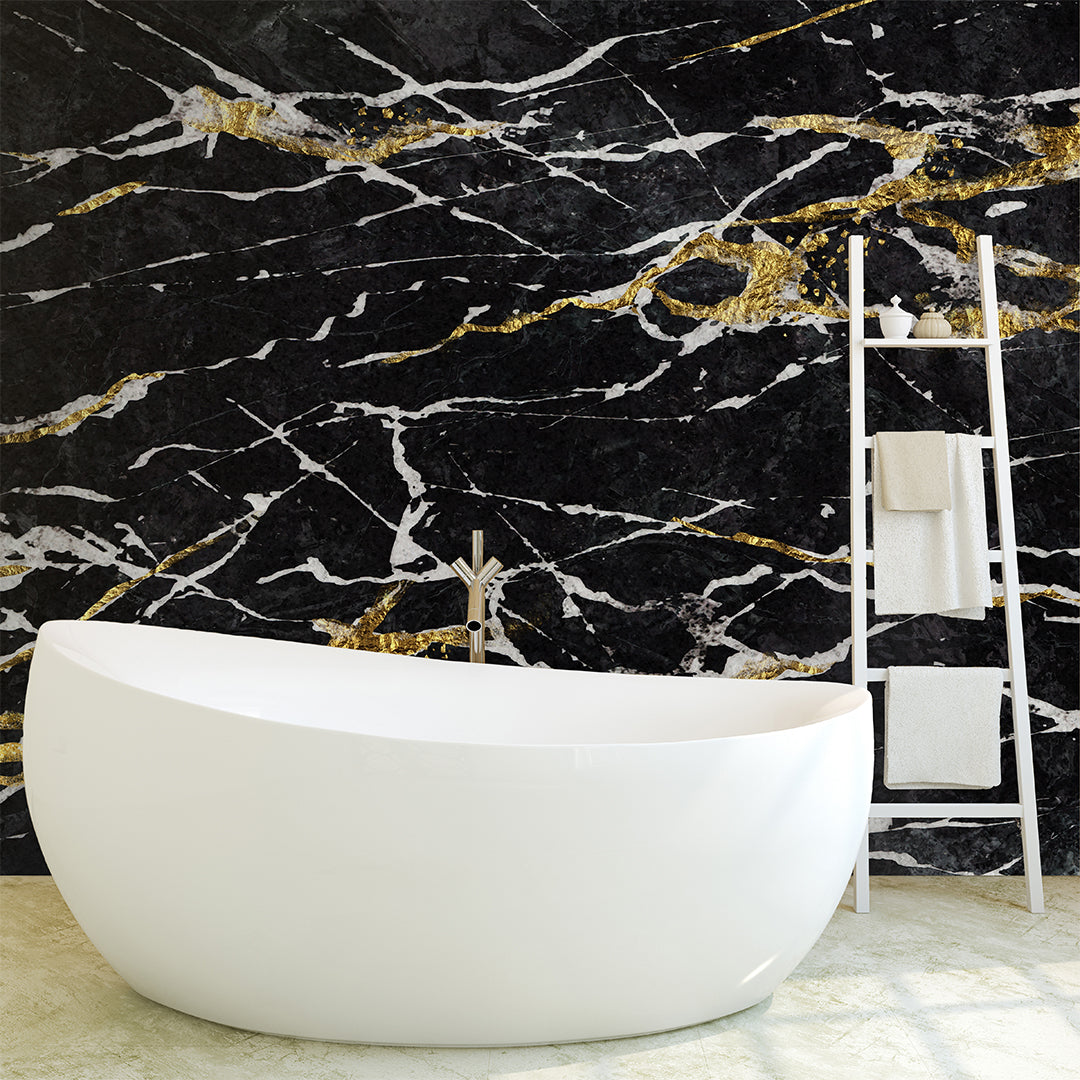 Self Adhesive Watercolor Marble Abstract Alcohol Ink Gray Black Wall Mural
This wallpaper showcases the intriguing and dynamic patterns of alcohol ink in black and gray. It's an artistic and contemporary choice for a black accent wall, bringing a sense of uniqueness and depth.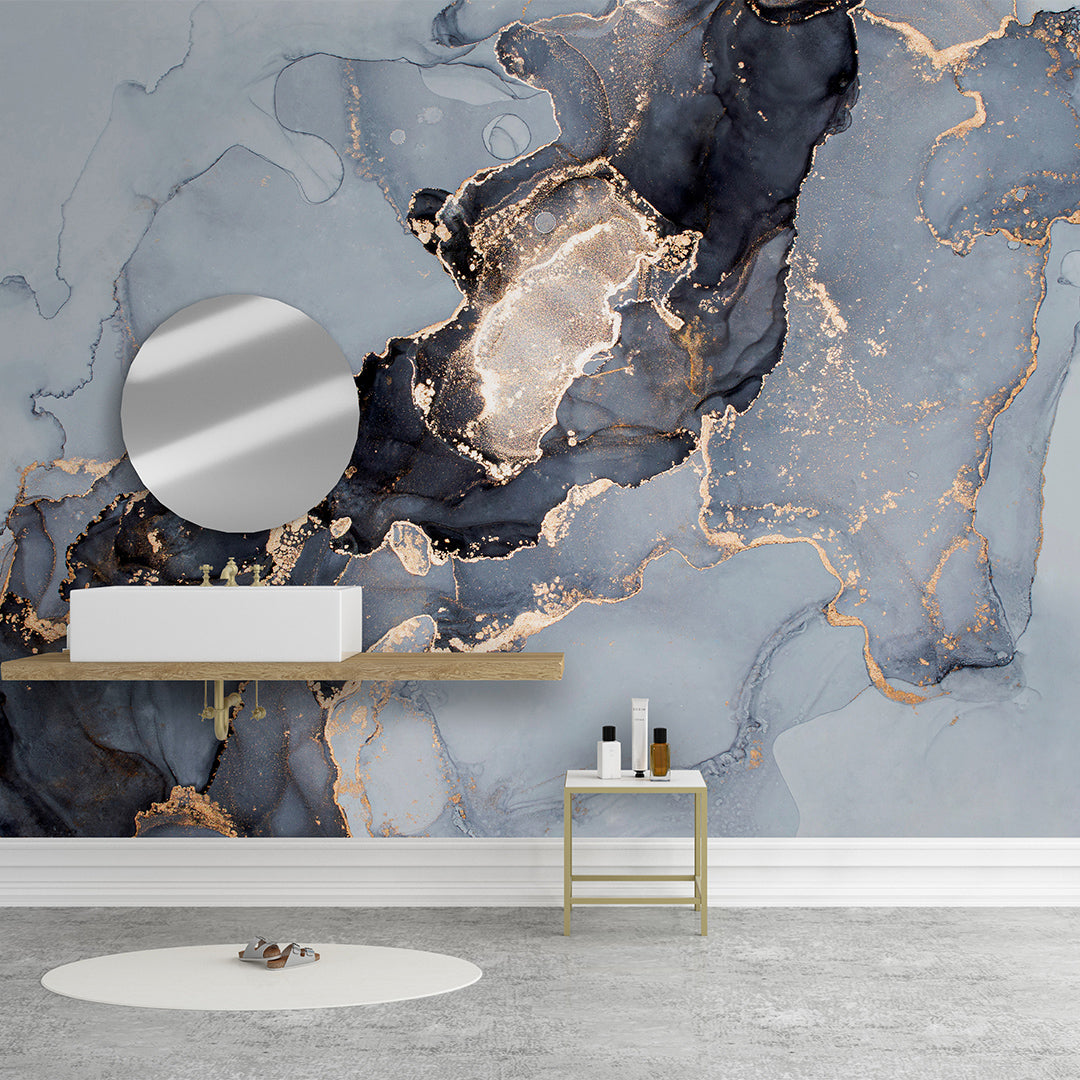 Black Minimalism
Black and White Abstract Lines Self Adhesive Wallpaper
Achieve the perfect balance of minimalism and modernity with black and white abstract lines. This wallpaper creates a clean and stylish atmosphere, perfect for various interior styles.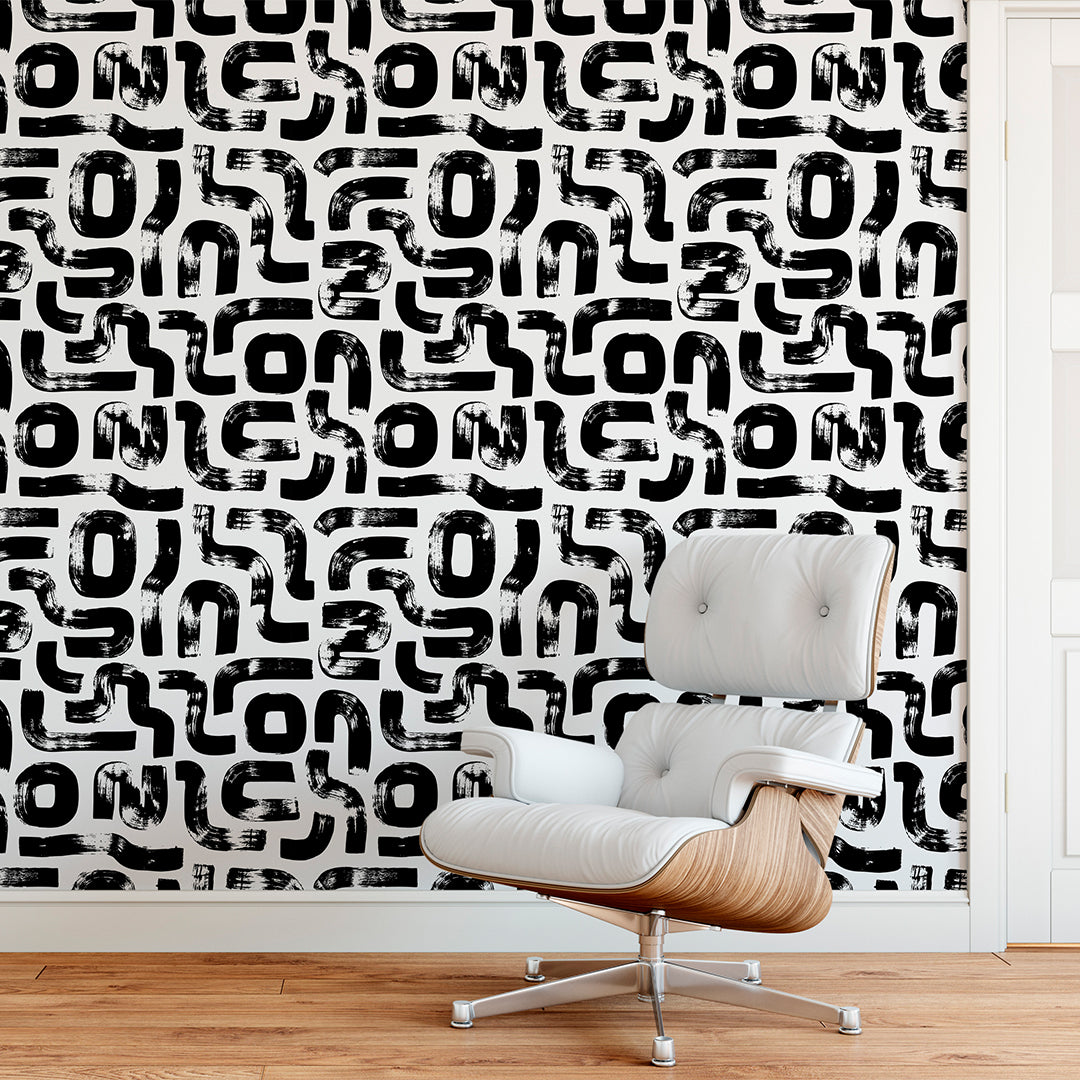 Self Adhesive Black and White Zebras Removable Wallpaper
If you're looking for a playful and artistic accent wall, this black and white zebras wallpaper is an excellent choice. It adds a touch of whimsy and charm to your space.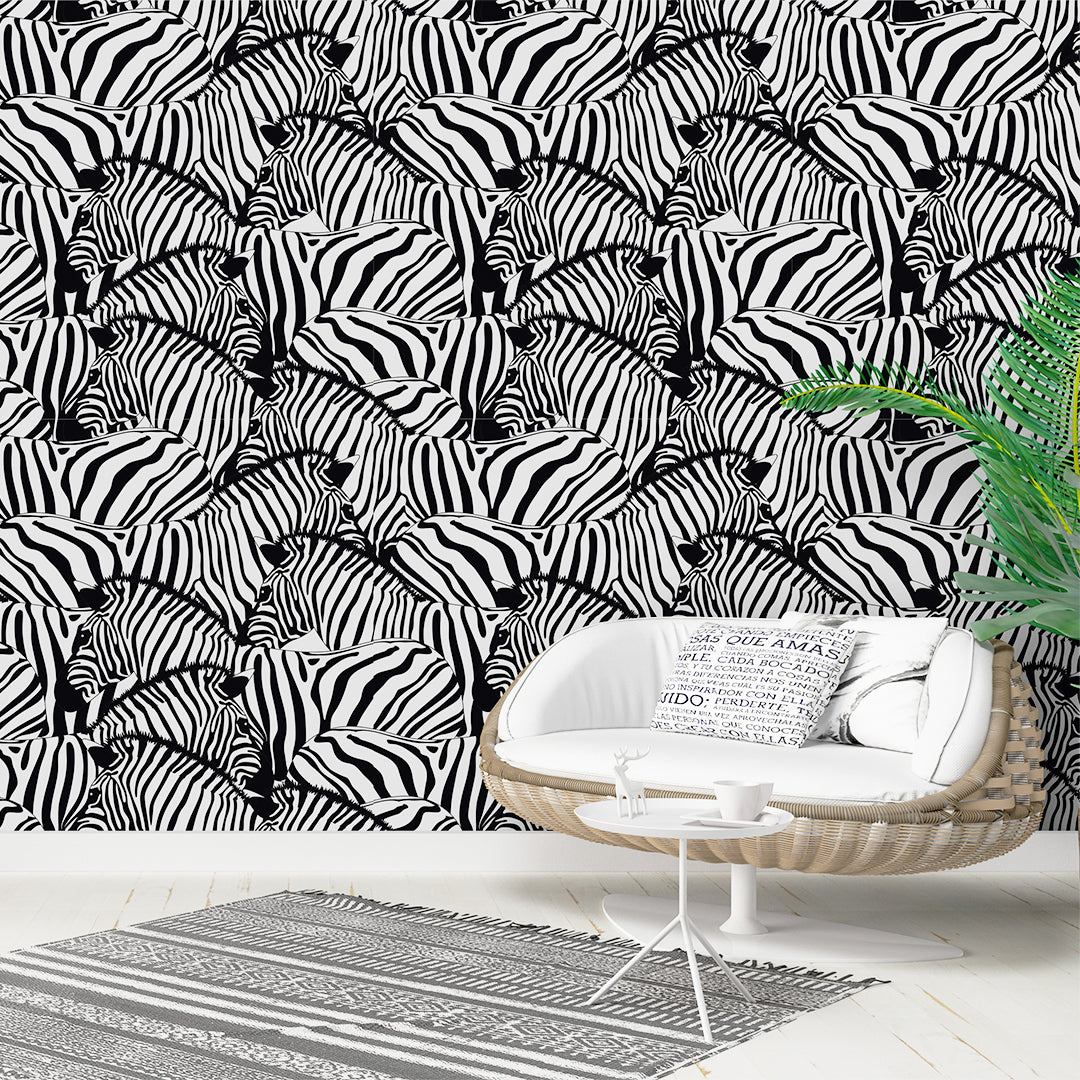 Black and White Stroke Self Adhesive Wallpaper
Make a bold statement with black and white strokes. This wallpaper exudes artistic energy and can be a fantastic addition to a creative or contemporary room.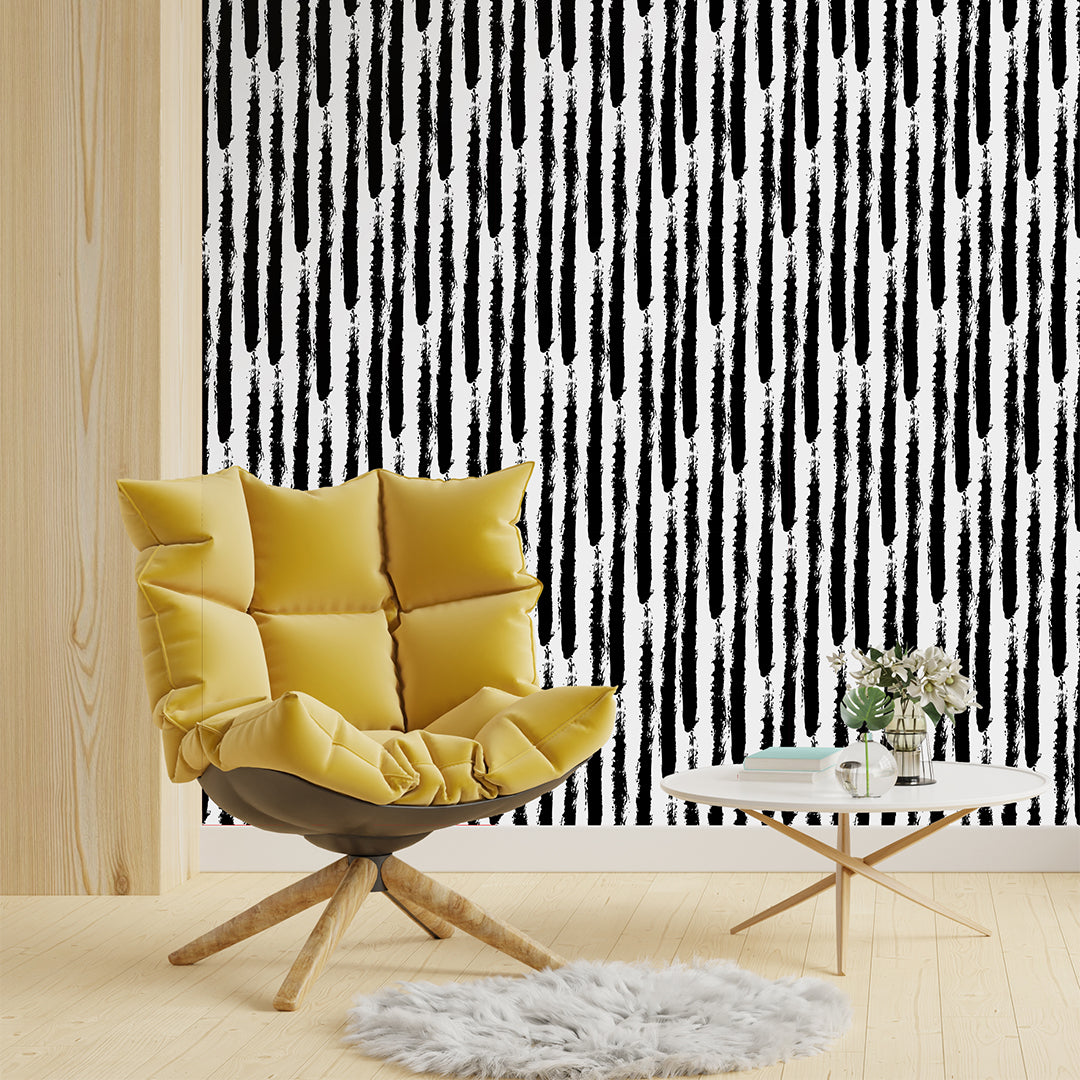 Whichever style you choose, a black accent wallpaper can provide a powerful design element that sets the tone for your entire space. These peel and stick options offer both flexibility and ease of installation, ensuring that your black accent wall is a work of art.
Accent Wall Wallpaper for the Bedroom
When it comes to creating a cozy and stylish bedroom, the power of an accent wall is hard to ignore. An accent wall can add character, depth, and a touch of personal style to your sleeping space. 
Soft Pastel Accents
Beige & White Floral Botanical Self Adhesive Wallpaper
This elegant option brings soft pastel accents to your bedroom. The floral botanical design adds a touch of nature's beauty to your space, creating a serene and relaxing ambiance.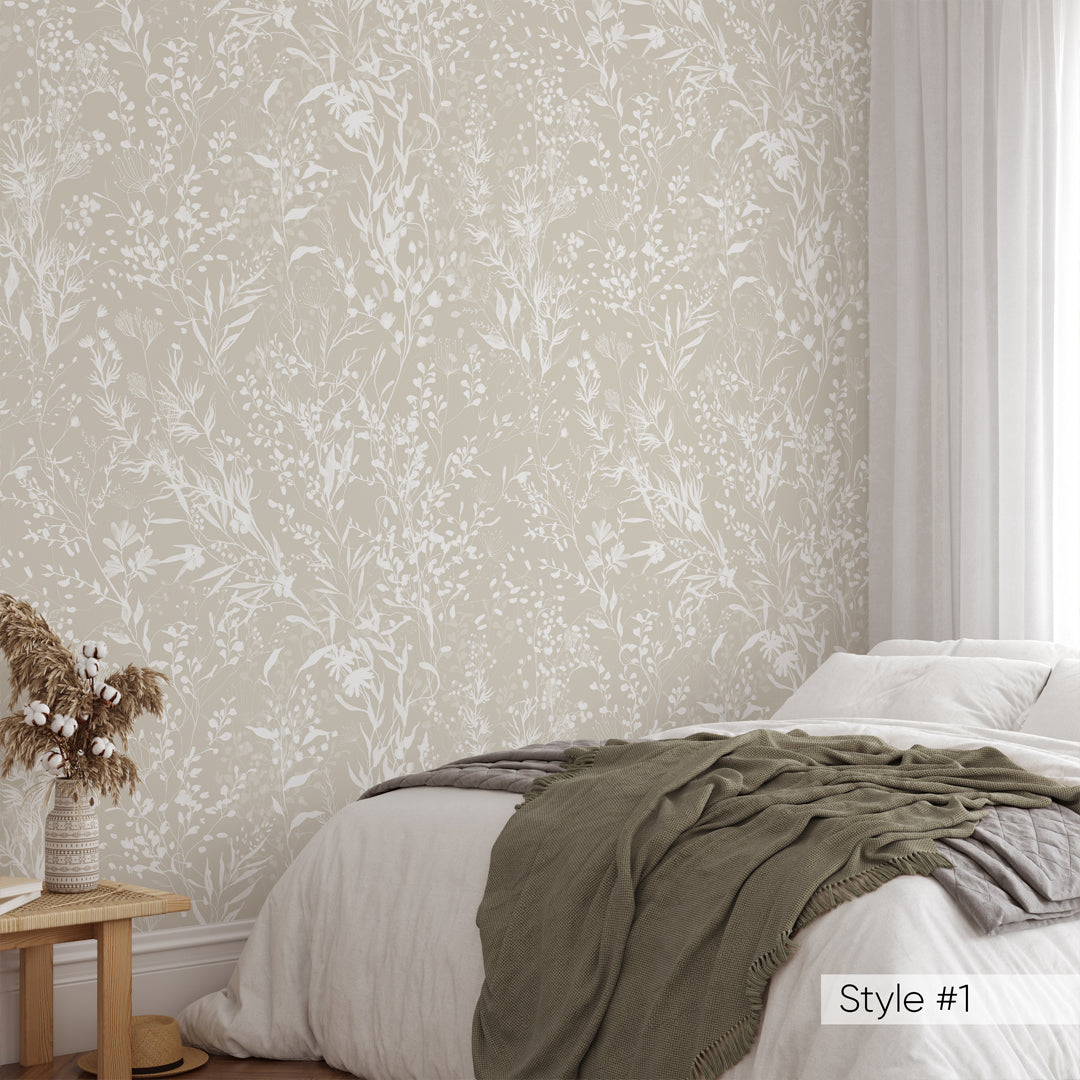 Geometric Designs
Neutral Hazelnut Maze Self Adhesive Wallpaper
Geometric patterns are a timeless choice for accent walls. This neutral hazelnut maze design adds a modern and intriguing dimension to your bedroom. It's an excellent option if you prefer a clean and sophisticated look.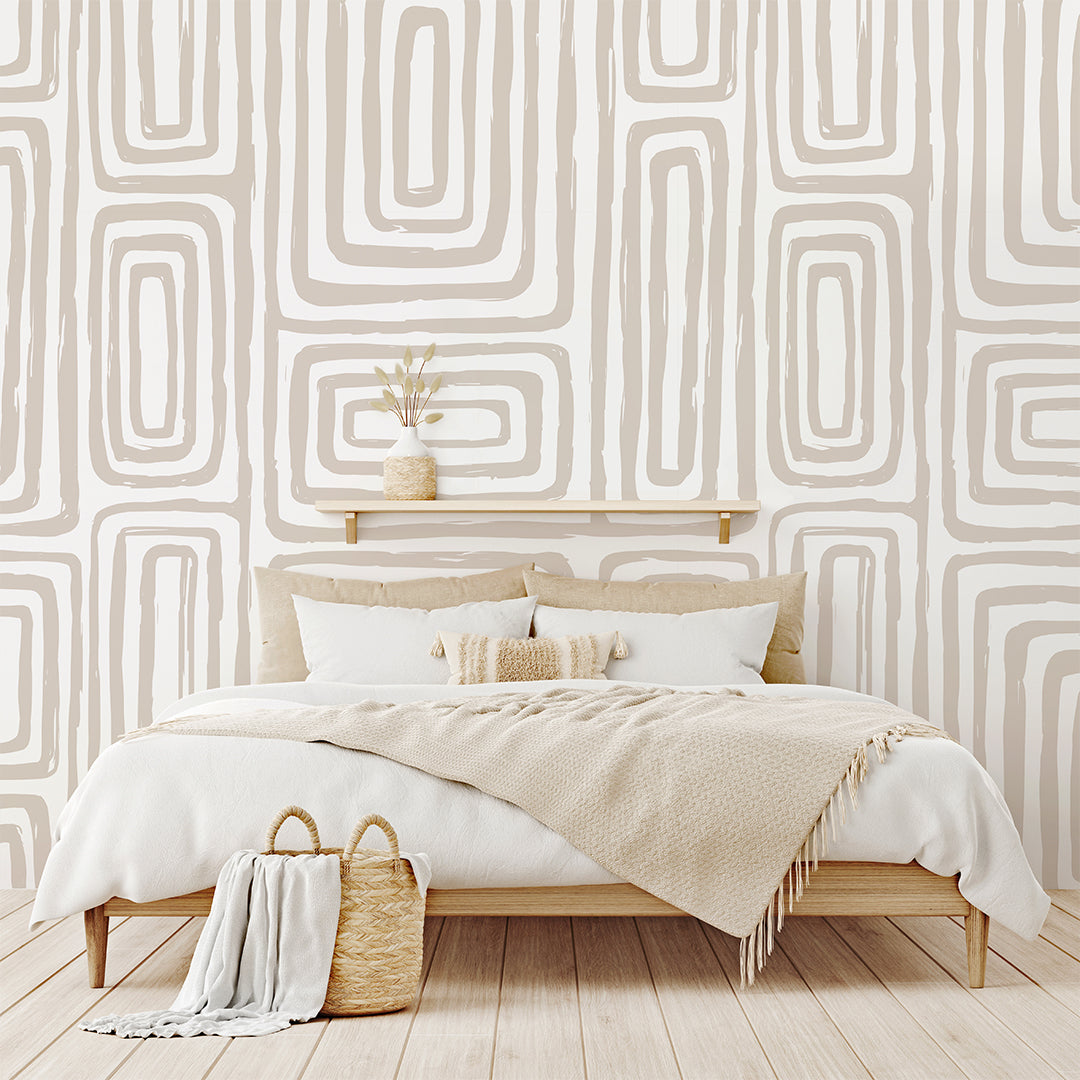 Nature-Inspired Patterns
Tropical Banana Leaves Self Adhesive Wall Mural
For those who want to embrace the beauty of nature, this tropical banana leaves bedroom murals are a perfect choice. The lush greenery creates a serene and exotic atmosphere, making your bedroom feel like a tranquil oasis.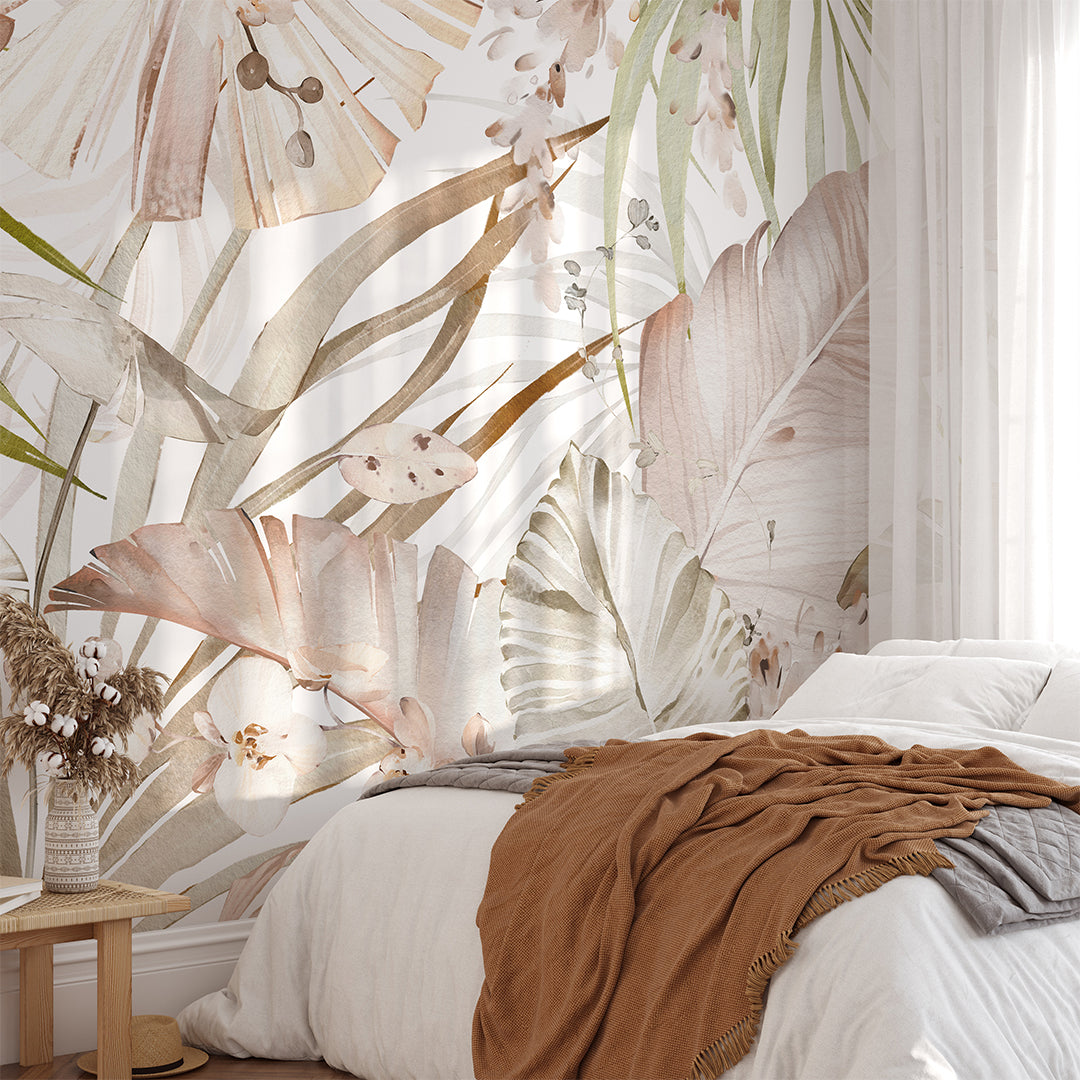 These peel and stick wallpapers offer an easy and cost-effective way to transform your bedroom into a stylish and comfortable retreat. Try one of these options to experience the magic of an accent wall in your bedroom.
Living Room Wallpaper Accent Wall
A living room is often the heart of the home, a space for relaxation, entertaining, and self-expression. Creating a captivating living room can be easily achieved with the power of an accent wall. In the realm of interior design, a well-executed family room wallpaper can breathe new life into your space, making a bold statement while reflecting your personal style.
Bold and Vibrant Choices
Tropical Banana Leaf Wall Mural Self Adhesive Wallpaper
For those who want to transport themselves to a tropical paradise right in their living room, this bold and vibrant wallpaper can do the trick. The lush, green banana leaves bring a sense of the exotic into your space, creating a lively ambiance.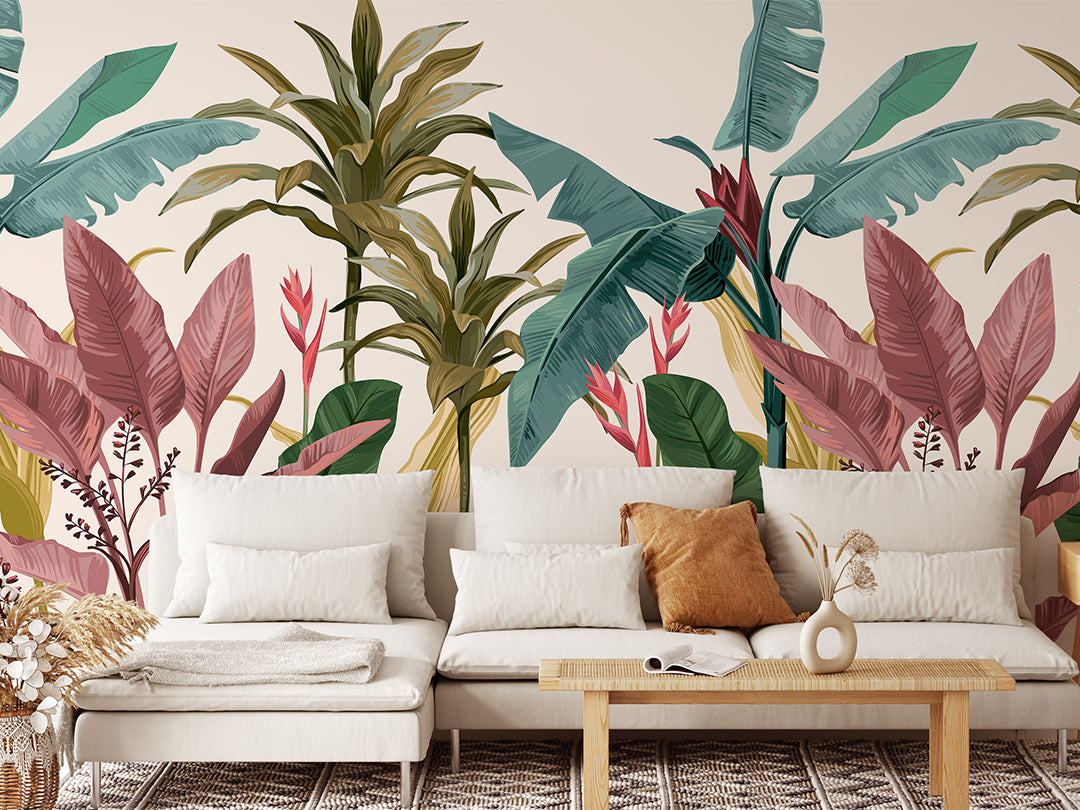 Subtle Texture Accents
Neutral Beige Abstract Female Face Self Adhesive Wallpaper
Sometimes, the allure of an accent wall lies in the subtle textures and details. This neutral beige wallpaper featuring an abstract female face adds an artistic and intriguing touch to your living room, making it an excellent conversation starter.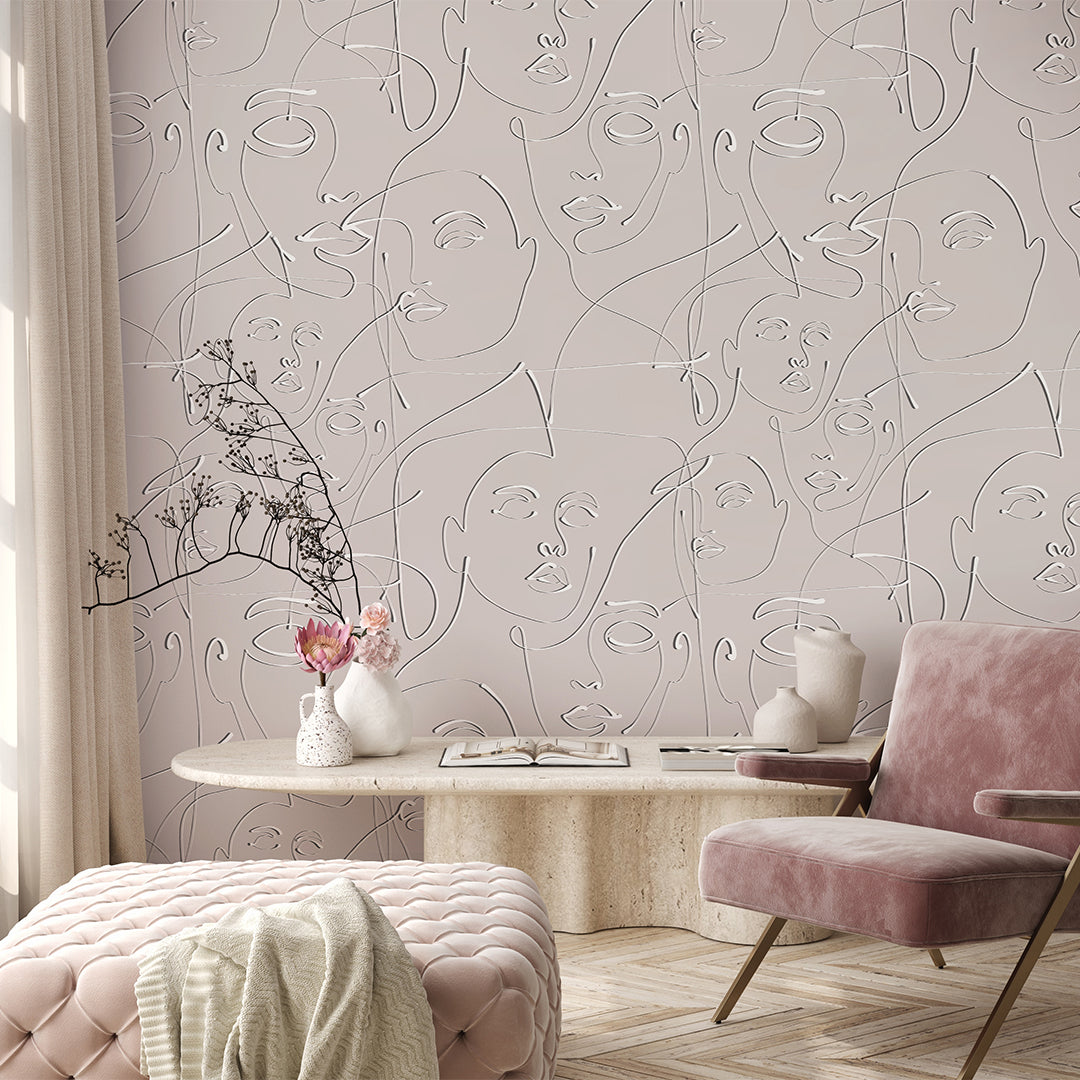 Boho Stones Shapes
Beige & White Boho Stones Shapes Self Adhesive Wallpaper
Embrace the timeless boho style with this beige and white wallpaper. The boho stones shapes bring an artistic and eclectic flair to your living room, giving it a unique personality and a cozy feel.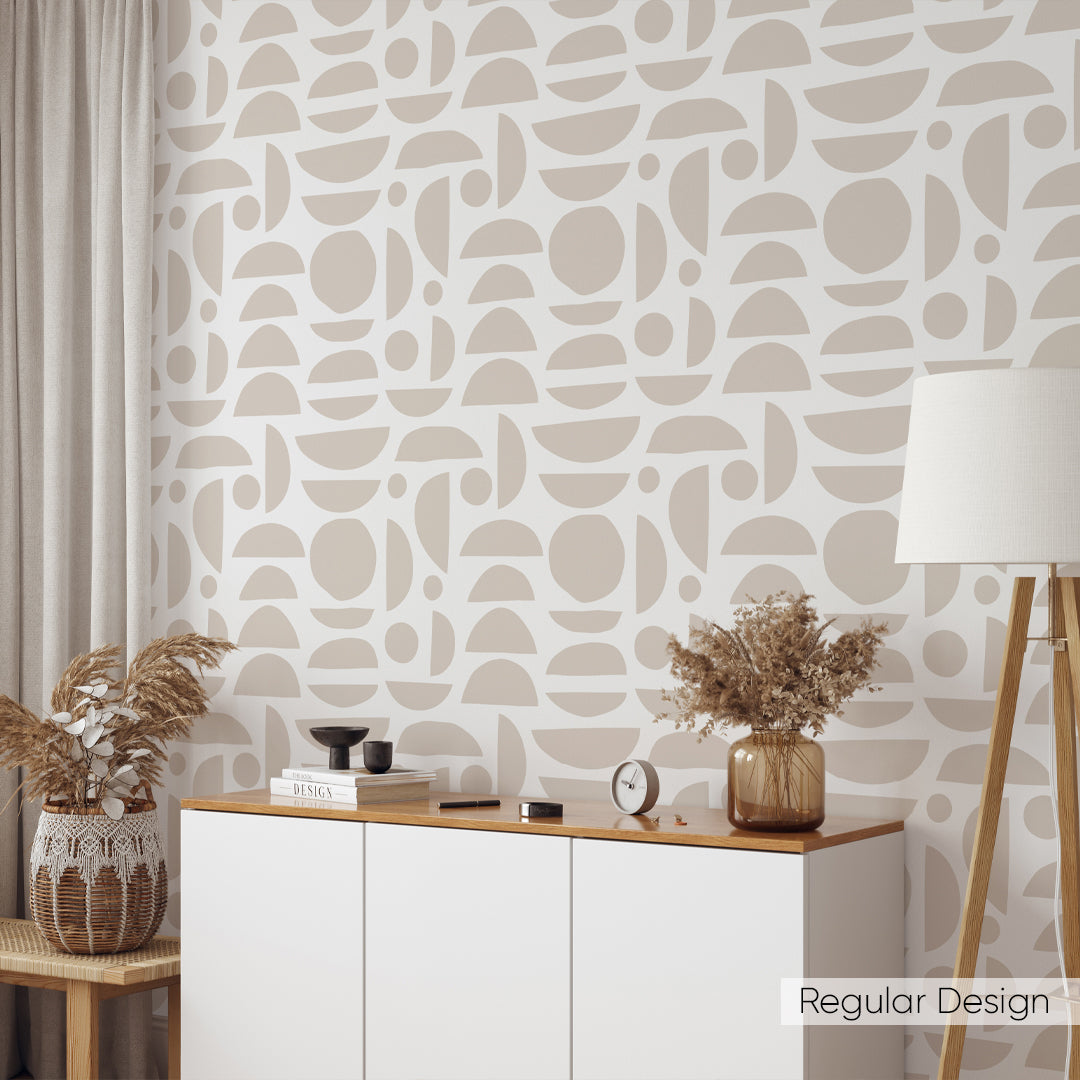 Incorporating these living room wallpaper accent wall ideas can transform your family room into a space that reflects your individuality, creating a comfortable and stylish atmosphere for you and your loved ones.
Conclusion
In the grand tapestry of interior design, the use of accent walls holds a special place, and the innovation of peel and stick wallpaper has opened up a world of creativity and convenience for homeowners and decorators. The impact of these accent walls, whether they're in rich, elegant black or other stunning designs, is undeniable. The walls of your home become a canvas, and the only limit is your imagination. So, go ahead and make your mark, one accent wall at a time.
---